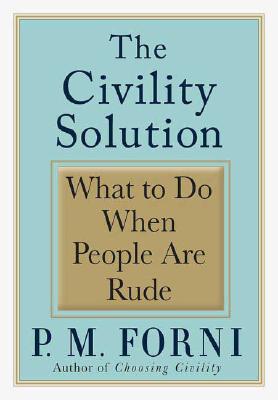 The Civility Solution: What to Do When People Are Rude (Hardcover)
What to Do When People Are Rude
St. Martin's Press, 9780312368494, 192pp.
Publication Date: June 10, 2008
* Individual store prices may vary.
or
Not Currently Available for Direct Purchase
Description
Many of us find ourselves confronted with rudeness every day and don't know how to respond. From the intrusive cell-phone user who holds loud conversations in public to the hostile highway driver who cuts one off with a quick swerve of his car, politeness seems to be on a downward spiral, surprising us at every turn. P.M. Forni, the author of "Choosing Civility," has the answer. knows that rudeness begets rudeness and, in "The Civility Solution," he shows us what to do when confronted with bad behavior by being assertive as well as civil. In more than one hundred different situations, he shows us how to break the rudeness cycle by responding to a variety of confrontations from bullying to rude internet behavior or the hurtful words of an insensitive family member. How would you respond to the following?
A salesperson ignores your requests
A fellow driver gives you the infamous "finger"
Your child's playmate misbehaves
Your boss publicly reprimands you
P. M. Forni has solutions for all of these and many more. In yet another simple and practical handbook, P. M. Forni presents logical solutions that reinforce good behavior and make our world a more civil place.
About the Author
DR. P.M. FORNI is an award-winning professor of Italian Literature at Johns Hopkins University. In 2000 he founded The Civility Initiative at Johns Hopkins and over the years has continued to teach courses on the theory and history of manners. His book "Choosing Civility" (2002) has sold more than 100,000 copies. Reports on his work have appeared on The New York Times, The Times of London, The Washington Post, The Wall Street Journal, and The Los Angeles Times. He has been a on a number of radio and television shows, including ABC's World News Tonight, CBS Sunday Morning and BBC's Outlook. For years he was a regular on-the-air contributor to the Baltimore NPR affiliate station and the nationally syndicated radio show The Satellite Sisters.
Praise For The Civility Solution: What to Do When People Are Rude…
"It is an honor to recommend this fabulous book! P.M. Forni's thoughtful discussion of the importance of civility in today's hectic world will surely help readers find viable solutions for dealing with a variety of rude situations."—Peggy Post, director of the Emily Post Institute and author of Emily Post Etiquette, 17th Edition
"Pier M. Forni will be remembered as one of the greatest generals in our nation's struggle for civility."—Smithsonian Magazine
Advertisement