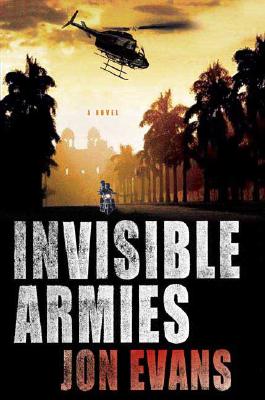 Invisible Armies (Hardcover)
Minotaur Books, 9780312368678, 368pp.
Publication Date: June 26, 2007
* Individual store prices may vary.
Description
From the mines of remote India, to the streets of Paris and the lights of Las Vegas, Danielle Leaf is pursued by a terrible secret.
Danielle came to India to find herself. Then she agreed to deliver a passport for her ex-boyfriend, legendary computer hacker Keiran Kell. It seemed like a simple favor for a friend - until she was abducted by thugs and imprisoned in a nightmarish cell.
She is soon joined by another captive: Laurent, a Foreign Legionnaire turned international activist. Their daring escape is only the beginning. Now Danielle has been drawn into a war between a transnational mining company that is poisoning thousands of Third World farmers, and the invisible armies of anti-corporate protestors who oppose it. A cause, finally, that she can believe in.
Amidst a whirlwind romance on the Goa coast, bloody street battles in Paris, cyberspace duels between shadowy hackers, and a bomb gone wrong in London, Danielle, Laurent and Keiran grow more deeply involved in this battle than they ever expected ... until the line between right and wrong begins to blur. For both sides of this war are willing to kill for their cause - and both sides hide deadly secrets.
Award-winning author Jon Evans returns with new heroes and a compulsive, fast-paced story that examines issues of corporate exploitation and the extreme edge of anti-globalization activism. Invisible Armies is Cold War suspense for the modern age, a thriller that looks behind the power of protests and the politics of big business.
About the Author
Jon Evans is the winner of the 2005 Arthur Ellis Award for Best First Novel for "Dark Places." His journalism has been published in "The Globe & Mail," "The Walrus," and "Wired" magazine. He lives in Montreal. Visit his web site at www.rezendi.com.
Praise For Invisible Armies…
International Praise for Invisible Armies
"A fast-paced, politically engaging thriller." -The Globe & Mail (Canada)
"Evans has created a new genre, the travelogue as fast-paced action thriller."
--Calgary Herald (Canada)
"An unpredictable, frightening thriller."
--The Province (Canada)
"It's safe to say that the ending will come as a surprise. In fact, so will the middle."
-- Echo Weekly (Australia)
"Evans has created a remarkable novel in this tale of corporate skullduggery and high-tech warfare."
--The West Australian

Praise for Dark Places
"Dark Places is engaging, disturbing, and relentless--an impressive debut novel."
--C.J. Box
"Young, techno-savvy, and unfailingly hip. Evans captures perfectly the world of trekkers while keeping the pace rocking."
-Kyle Mills
Praise for Blood Price
"A highly readable, inventive thriller."
--Publishers Weekly
"A fantastic read for armchair paranoids."
--Booklist
or
Not Currently Available for Direct Purchase