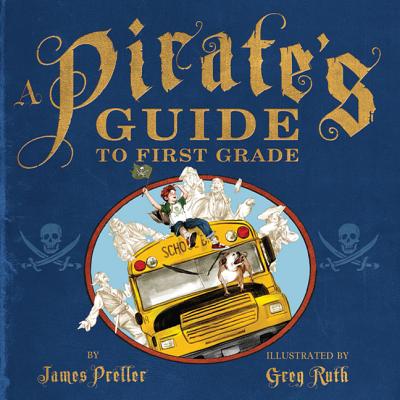 A Pirate's Guide to First Grade (Hardcover)
Feiwel & Friends, 9780312369286, 48pp.
Publication Date: July 20, 2010
* Individual store prices may vary.
or
Not Currently Available for Direct Purchase
Description
 Arr! It's the first day of first grade, and it's all hands on deck for a young pirate and his crew. How much trouble can they get into? What will they do at recess? And, most important, what treasure awaits them at school?
About the Author
James Preller is the author of the popular Jigsaw Jones mystery books, which have sold more than 10 million copies since 1998. He is also the author of Bystander, named a 2009 Junior Library Guild Selection, Six Innings, an ALA Notable Book, and Mighty Casey, his own twist on the classic poem, "Casey at the Bat." In addition to writing full-time, Preller plays in a men's hardball league and coaches Little League. He compares coaching kids to "trying to hold the attention of a herd of earthworms." He lives in Delmar, New York, with his wife, three children, cats and dog.Greg Ruth lives and works in the landlocked woodlands of Western Massachusetts with his wife, Jen, and two boys, Emmett and Nathaniel, where he crafts graphic novels, children's picture books, and many other items to pass the long days not at sea. While he did indeed attend first grade, sadly, he was without pirate accompaniment. However, he has pondered a hook for his left hand (but only because he thinks they're really cool).
Praise For A Pirate's Guide to First Grade…
"Kids will love the contrast between the antics of the imaginary pirates and the regular school-day routine." --Scripps Howard News Service
"This rambunctious first day tale is fit for any young buccaneer… Preller's buoyant pirate-inflected storytelling and Ruth's illustrations, which have a decidedly vintage flair, form an exuberant tribute to imagination and a spirit of adventure." --Publishers Weekly, STARRED REVIEW
"Young would-be buccaneers facing their own first-day jitters will enjoy this droll title, which ends with a cheer or libraries. A great choice for sharing on September 19, International Talk Like a Pirate Day."--Booklist
"The illustrations have a vintage feel, complete with boisterous grog-drinking, scabbard-waving, and bubble-pipe-smoking pirates…a tremendous read-aloud, especially on Talk Like a Pirate Day." --School Library Journal, STARRED review
"Pirate-addled readers will dance a jig; press-ganged kids will be happy for the glossary. Good fun, me hearties." --Kirkus Reviews
Praise for James Preller's Mighty Casey:
 "It's a cute story with comic illustrations showing all manner of lame behavior by the Dogs during the game, including a kid who falls asleep, one who climbs a tree and another who pees on the fence."--San Francisco Chronicle"With engaging read-aloud rhythms and a misfit cast young children will cheer for, this story is assured a place in (Little League) baseball lore."—Booklist "Reworking Ernest Thayer's poem "Casey at the Bat" for Little Leaguers, Preller (Along Came Spider) and Cordell (Righty and Lefty) knock out a spirited celebration of a team with the right attitude, if not skills . . . Set against ample white space, Cordell's endearingly geeky kids take center stage (mid-game distractions include tree-climbing, a bee sting and a bathroom break on the left field fence). It's hard to envision a reader who won't take to these underdogs."—Publishers Weekly "The ink and watercolor drawings vary in size and are full of energy and movement as the players engage in different activities. The faces are expressive and fun to look at. This is a great baseball book for all those T-ball and Little League players out there."—School Library Journal "As a writer of verse, Preller, author of Six Innings (2008), makes an excellent prose novelist. His rhymed tale of a Little League nonhitter who lights a fire in his team of total losers shows plenty of heart, if shaky scansion . . . Cordell's simply drawn cartoons of geeky, distracted children sporting oversized batting helmets suit this lightweight remake of a certain famous baseball ballad."—Kirkus Reviews
Advertisement