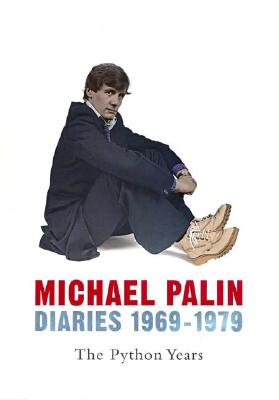 Diaries 1969-1979 (Hardcover)
The Python Years
Thomas Dunne Books, 9780312369354, 672pp.
Publication Date: September 4, 2007
* Individual store prices may vary.
or
Not Currently Available for Direct Purchase
Description
Michael Palin has kept a diary since newly married in the late 1960s, when he was beginning to make a name for himself as a TV scriptwriter (for "The Two Ronnies, " David Frost, etc). Monty Python was just around the corner.
This volume of his diaries reveals how Python emerged and triumphed, how he, John Cleese, Graham Chapman, the two Terrys---Jones and Gilliam---and Eric Idle came together and changed the face of British comedy. But this is but only part of Palin's story. Here is his growing family, his home in a north London Victorian terrace, which grows as he buys the house next door and then a second at the bottom of the garden; here, too, is his solo effort---as an actor, in "Three Men in a Boat, " his writing endeavours (often in partnership with Terry Jones) that produces "Ripping Yarns" and even a pantomime.
Meanwhile Monty Python refuses to go away: the hugely successful movies that follow the TV (his account of the making of both "The Holy Grail" and the "Life of Brian" movies are page-turners), the at times extraordinary goings-on of the many powerful personalities who coalesced to form the Python team, the fight to prevent an American TV network from bleeping out the best jokes on U.S. transmission, and much more---all this makes for funny and riveting reading. The birth and childhood of his three children, his father's growing disability, learning to cope as a young man with celebrity, his friendship with George Harrison, and all the trials of a peripatetic life are also essential ingredients of these diaries. A perceptive and funny chronicle, the diaries are a rich portrait of a fascinating period.
"Michael Palin is not just one of Britain's foremost comedy character actors, he also talks a lot. Yap, yap, yap he goes, all day long and through the night . . . then, some nights, when everyone else has gone to bed, he goes home and writes up a diary."
---John Cleese "This combination of niceness, with his natural volubility, creates Palin's expansiveness."
---David Baddiel, "The Times"
"A real delight to read."
---"Saga "Magazine (UK)
"His showbiz observations are so absorbing. . . . Palin is an elegant and engaging writer."
---William Cook, "The Guardian" (UK)
"A wealth of fascinating stuff about Monty Python."
---"The Independent" (UK)
"Our favourite TV explorer shows us the workings of an unstoppable machine."
---"Daily Express" (UK)
"A riveting commentary to a remarkably creative decade."
---"Academy" (UK)
About the Author
Michael Palin is a scriptwriter, comedian, novelist, actor, and playwright. He also happens to be one of the funniest people on the planet.
Advertisement