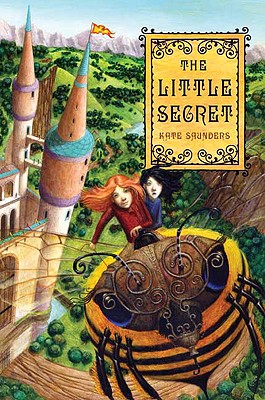 The Little Secret (Hardcover)
Feiwel & Friends, 9780312369613, 240pp.
Publication Date: June 23, 2009
* Individual store prices may vary.
or
Not Currently Available for Direct Purchase
Description
When Jane is invited to spend her summer vacation with her new—but admittedly odd—friend, Staffa, it feels like a dazzling daydream. Jane is lured by the promise of beautiful gowns as delicate as cobwebs, fancy parties as elegant as castle balls, and more fun than she can possibly imagine.
But there's something menacing about the gleam in Staffa's mother's eyes. Something not-quite-right about the long drive over the hills of Scotland. Something strangely alluring about the mysterious, glowing box she is told she must never open. Never, ever, for any reason . . . Until, of course, it is opened on her behalf.
If Jane goes home with Staffa—if she enters the world of the box—will she be trapped forever? Or will she become every girl's secret idea of a princess?
Kate Saunders takes readers into a wildly imaginative miniaturized world of castle balls, death-defying bee riders, and giant racing spiders. A world where wicked plots are hatched, exciting rescues staged, and where the power of friendship can be a match for even the most dastardly of villains.
About the Author
KATE SAUNDERS worked as an actress until she was twenty-five and then became a writer. She has written books for children, books for adults, and many, many articles for magazines and newspapers. She lives with her family (and her cats) in London. She has never ridden a bee or drank a cup of Haw-Haw tea, but she's certainly had an adventure or two. WILLIAM CARMAN draws pictures in his studio in Boise, Idaho, where he also has a family. Though his house is more like an Animal Garden than a Boy Garden, he enjoys living there anyway. He has received many honors for his artwork, including a Society of Illustrators Gold Medal. Whenever he has a chance, he fishes.
Praise For The Little Secret…
Praise for The Little Secret:
"This well-blended mix of romantic fantasy and gripping adventure, starring heroic girls, will speak to a broad audience."—Publishers Weekly
"Children cannot help but be entranced by this Borrowers-like fantasy that mixes just enough otherworldliness with the realities of home, family, and friends to make one willingly suspend disbelief. The short chapters, introduced by well-executed black-and-white thumbnail sketches, are fast paced and clearly written. The many details, particularly those from the perspective of creatures much smaller than humans, add interest to an already-captivating story…The plot twists and turns enhance the tale and make one eager to buy into the protagonist's adventures. Furthermore, Jane's willingness to befriend those who are different will be a welcome message for today's readers."—School Library Journal
"Will intrigue many readers with well-imagined details of a strange land and the rather childlike adventures that take place there. Fine black-and-white illustrations at the chapter heads add to the book's charm."—Booklist
"The spry mix of action, friendship and good-besting-evil has undeniable appeal."—Kirkus Reviews
"Girls will devour Kate Saunders's The Little Secret."—The Times (London)
"A special book . . . perfect for older girls, about an unusual friendship and a box to rival Pandora's." The Observer (London)
Advertisement