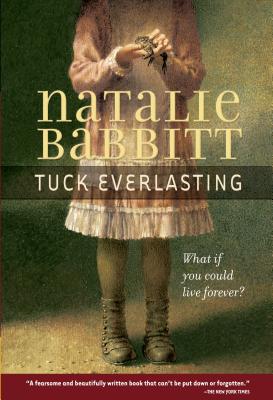 Tuck Everlasting (Paperback)
Square Fish, 9780312369811, 160pp.
Publication Date: August 21, 2007
Other Editions of This Title:
Digital Audiobook (10/22/2007)
Paperback, Spanish (9/1/1993)
CD-Audio (4/12/2005)
Prebound, Spanish (9/1/1993)
Prebound (8/1/2007)
Hardcover, Large Print (3/8/2017)
Prebound (8/1/2007)
Prebound (1/20/2015)
Compact Disc (9/1/2000)
Paperback (12/1/1985)
Hardcover (1/1/1975)
Paperback, Chinese (3/1/2016)
Audio Cassette (1/1/1995)
* Individual store prices may vary.
Description
The classic novel about a young girl who stumbles upon a family's stunning secret
What if you could live forever?
Is eternal life a blessing or a curse? That is what young Winnie Foster must decide when she discovers a spring on her family's property whose waters grant immortality. Members of the Tuck family, having drunk from the spring, tell Winnie of their experiences watching life go by and never growing older.
But then Winnie must decide whether or not to keep the Tucks' secret—and whether or not to join them on their never-ending journey.
Praise for Tuck Everlasting by Natalie Babbitt:
"A fearsome and beautifully written book that can't be put down or forgotten." —The New York Times

"Exciting and excellently written." —The New York Times Book Review

"With its serious intentions and light touch the story is, like the Tucks, timeless." —Chicago Sun-Times

"Probably the best work of our best children's novelist." —Harper's

"Natalie Babbitt's great skill is spinning fantasy with the lilt and sense of timeless wisdom of the old fairy tales. . . . It lingers on, haunting your waking hours, making you ponder." —The Boston Globe

"This book is as shapely, crisp, sweet, and tangy as a summer-ripe pear." —Entertainment Weekly
About the Author
Artist and writer Natalie Babbitt (1932–2016) is the award-winning author of the modern classic Tuck Everlasting and many other brilliantly original books for young people. As the mother of three small children, she began her career in 1966 by illustrating The Forty-Ninth Magician, written by her husband, Samuel Babbitt. She soon tried her own hand at writing, publishing two picture books in verse. Her first novel, The Search for Delicious, was published in 1969 and established her reputation for creating magical tales with profound meaning. Kneeknock Rise earned Babbitt a Newbery Honor in 1971, and she went on to write—and often illustrate—many more picture books, story collections, and novels. She also illustrated the five volumes in the Small Poems series by Valerie Worth. In 2002, Tuck Everlasting was adapted into a major motion picture, and in 2016 a musical version premiered on Broadway. Born and raised in Ohio, Natalie Babbitt lived her adult life in the Northeast.
Praise For Tuck Everlasting…
"Rarely does one find a book with such prose. Flawless in both style and structure, it is rich in imagery and punctuated with light fillips of humor." —The Horn Book Magazine
"Beautiful and descriptive language is the strength of Babbitt's fantasy about Winnie and her encounter with the Tuck family, who cause her--and readers--to ponder an important question: What would it be like to live forever?" —Booklist
"Probably the best work of our best children's novelist." —Harper's
"A fearsome and beautifully written book that can't be put down or forgotten." —The New Yorker
"Exciting and excellently written." —The New York Times Book Review
"Natalie Babbitt's great skill is spinning fantasy with the lilt and sense of timeless wisdom of the old fairy tales. . . . It lingers on, haunting your waking hours, making you ponder." —The Boston Globe
"With its serious intentions and light touch the story is, like the Tucks, timeless." —Chicago Sun-Times
"This book is as shapely, crisp, sweet, and tangy as a summer-ripe pear." —Entertainment Weekly