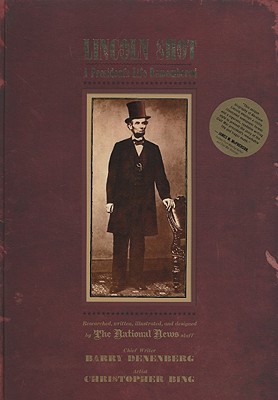 Lincoln Shot: A President's Life Remembered (Hardcover)
A President's Life Remembered
Feiwel & Friends, 9780312370138, 40pp.
Publication Date: September 30, 2008
* Individual store prices may vary.
or
Not Currently Available for Direct Purchase
Description
"Lincoln Shot" So begins this intimate portrait of Abraham Lincoln. Conceived as a one year anniversary edition of a newspaper, dated April 14, 1866, strongly evocative of the time and the nation's mood. The moment-by-moment recital of the events of the day that ended in assassination holds readers enthralled awaiting the tragic end. The account of the flight, capture, and hanging of some of the conspirators is riveting.
From there, Denenberg moves to the log cabin in Kentucky and Lincoln's life unfolds. The boy, the man, the husband and the father is portrayed as a trifle clumsy, often unsure of himself, and plagued by dark moods. Denenberg's Lincoln is ambitious and modest. He struggles with his role as leader as the Civil War nears.
In the third part of the book, the year-by-year account of the Civil War is seen through Lincoln's eyes. Every defeat and every victory deepens his struggle and resolve.
Award-winning artist Christopher Bing evokes an 1866 newspaper with pen-and-ink scenes from Lincoln's life: Lincoln wrestling Jack Armstrong, Lincoln taking vows with Mary Todd, Grant and Lee at Appomattox, and Booth shooting Lincoln.

Rich Deas, book designer, has folded Bing's art and sourced archival images into layouts that are undistinguishable for 1866 newspaper design. Every facet of design, from frames to advertisements, has been exactingly molded to evoke the era.
The oversized vertical trim underscores the newspaper look and feel. Meticulously researched and exquisitely designed, "Lincoln Shot" is a uniquely inviting and accessible tribute to Lincoln, whose birth bicentennial is February 12, 2009.
About the Author
Barry Denenberg's biographies have garnered excellent reviews. He won a Jefferson Cup Honor Award for When Will This Cruel War Be Over?: The Civil War Diary of Emma Simpson (Dear America, 1996). The Jefferson Cup is awarded by the Virginia Library Association's Children's and Young Adult Round Table. It honors a distinguished biography, historical fiction or American history book for young people. Mr. Denenberg lives in New York state.Christopher Bing won a 2001 Caldecott Honor Award for Casey at the Bat, the classic 1888 poem. The Midnight Ride of Paul Revere was called "an impressive volume" (PW). In a starred review, Booklist termed it "a remarkable visual interpretation of Longfellow's classic poem." Mr. Bing lives in Massachusetts.Rich Deas is an Art Director, designer, and illustrator with a strong focus on book design. He has created hundreds of book covers. Mr. Deas lives in New Jersey.
Praise For Lincoln Shot: A President's Life Remembered…
Praise for Lincoln Shot:
"But make room for an impressive volume.  It's designed to look like an 1866 newspaper marking the one-year anniversary of Lincoln's assassination on April 14, 1865. It has the feel of headline news…archival photos will help young readers feel they're touching history with all it's personal drama."—
USA Today
"It's a novel idea, well-executed with a mixture of archival materials, meticulous period-style illustrations by Christopher Bing and a sprinkling of would-be advertising…it contains an engaging narrative about Lincoln's childhood, his unlikely rise to the presidency, and his conduct of the Civil War...[a] more heroic version of history."—The Washington Post Book World
"This big-as-a-broadsheet book grabs attention with its title and delivers a blow-by-blow account of tragedy before exploring an extraordinary life. This is a visually and intellectually exciting keepsake for the bicentennial year."—
San Francisco Chronicle
 "As big as a broadsheet and designed as a newspaper account of Lincoln's life and death, the book is the antidote to complaints that history is dull."—
The Miami Herald,
Picked as one of The Best Kids' Books of the Year "This well-researched history of the president's assassination is riveting; the text is laid out like a newspaper from 1865 and the results are terrific. This book should be in every child's library, and every school library, everywhere."—
The Washington Post
 "Beautifully integrating content and form, this engrossing oversized (twelve inches by eighteen inches) book should serve both browsers and researchers well."—
The Horn Book Review,
starred review "This book would serve as a good 'first' book on Lincoln, and I can imagine many young readers sprawled around it on the floor."—
The Chicago Tribune
"Wonderfully readable"—The New York Times Book Review
"The combination of a compelling story, engaging visuals, and large format distinguishes this work…The book has great value."—School Library Journal, starred review
"The splendid, unusual design of this book, which replicates and illuminates the period atmosphere, is an example of how high quality bookmaking can turn a history lesson into an authentic experience." —
Booklist,
starred review "Enhanced by period-style advertisements and side features on his beard and other topics, by contemporary photos and also appropriately melodramatic wood engravings . . . makes a memorable way of introducing Lincoln's character and achievements. Its unusual appearance is guaranteed to draw readers to it; its striking graphics will keep them poring over the pages."
—
Kirkus Reviews,
starred review "…a gripping read for middle-graders ahead of the February bicentennial of Abraham Lincoln's birth, a big event in publishing for grown-ups but a slice of history in need of some wow for young people…. The faux-weathered pages have real advertisements from the time, rich pen-and-ink scenes from Lincoln's life and some gutsy archival photos that include dead bodies on the battlefield at Gettysburg and the hanging of John Wilkes Booth's assassination conspirators." —The Associated Press "This unique biography of Abraham Lincoln employs a richly-illustrated newspaper format and a vigorous, readable writing style to present the story of the Civil War president's remarkable life and tragic death. Written for young adults, it will appeal to readers of all ages. In this bicentennial season of Lincoln books, this one stands out with its attractive format and fast-paced prose."--James M. McPherson, Pulitzer Prize-winning author of 
Battle Cry of Freedom
 For Denenberg:"…a hard-hitting and ambitious biography which challenges readers to question how men who shape their times are in turned shaped themselves."—
Publishers Weekly
, starred review of
An American Hero: The True Story of Charles A. Lindberg
 "...a vivid and swiftly paced biography. Deneberg grabs and holds readers as he steadily leads them through the thicket of details that comprise Mandela's life."
Publishers Weekly
review of
Nelson Mandela: No Easy Walk to Freedom
 For Bing: "...debut children's book illustrator hits a home run with this handsome faux-scrapbook treatment . . .
--Publishers Weekly
 "Bing captures the spirit of the age with pen-and-ink illustrations that look like carefully preserved newspaper clippings, complete with slightly torn and yellowed edges."—
Publishers Weekly
 "Bing has orchestrated every detail to great effect."—
School Library Journal
The Midnight Ride of Paul Revere
was called "an impressive volume" (
Publisher's Weekly
). In a starred review,
Booklist
termed it "a remarkable visual interpretation of Longfellow's classic poem."
Advertisement