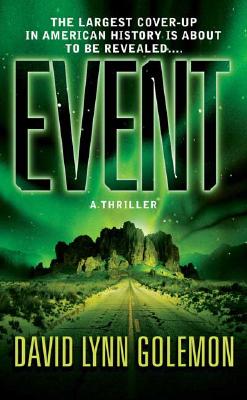 Event (Mass Market Paperbound)
St. Martin's Press, 9780312370282, 502pp.
Publication Date: April 3, 2007
Description
The Event Group is the most secret organization in the United States, comprised of the nation's most brilliant individuals in the branches of science, philosophy, and the military. Led by the valiant Major Jack Collins, they are dedicated to uncovering the hidden truths behind the myths and legends propagated throughout world history from underground agencies and conspiracy theories to extraterrestrial life and UFOs. And now that a new, unspeakable threat has been revealed, humanity's greatest hope for survival lies with Collins and his crew.
This time, the Group faces an enemy of remarkable strength and power. In order to ensure that history's errors never be repeated, the Group must team up with an unlikely ally to stop a deadly presence known only as the Destroyer of Worlds. Now, amid the desert wastelands of the American Southwest, the epic battle between two entities is about to begin .
About the Author
David L. Golemon is the author of the Event Group Thrillers, including Ancients, Leviathan and Primeval. Legend, the second book in the series, was nominated for a RITA award for paranormal fiction. Golemon learned an early love of reading from his father, who told him that the written word, unlike other forms, allows readers to use their own minds, the greatest special effects machines of all--an idea Golemon still believes. The only thing he loves more than writing is research, especially historical research, and he sees the subtext of his Event novels as being that understanding history allows us to create a better future. Golemon grew up in Chino, California, and now makes his home in New York.
Praise For Event…
"A promising debut… evokes some of the early work of Preston and Child."
--Publishers Weekly "Golemon puts his military experience to good use…sure to satisfy fans of The X-Files."--Publishers Weekly
Advertisement