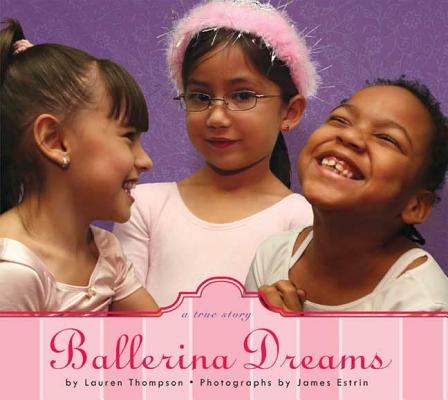 Ballerina Dreams (Hardcover)
A True Story
Feiwel & Friends, 9780312370299, 40pp.
Publication Date: October 2, 2007
* Individual store prices may vary.
Description
Once upon a time there were five little girls who shared a dream. They wanted to be ballerinas and dance on stage like their sisters and cousins and friends.
But it would be hard for these girls to make their dream come true. They had cerebral palsy or other physical disabilities, which meant their muscles didn't move the way they wanted them to. Some wore leg braces. Some used wheelchairs and walkers to get around. But these girls were determined. They had a dedicated teacher. Every week they practiced. They worked hard. And one day they were ready.
Ballerina Dreams is an inspiring true story of love, hope and courage for everyone and anyone who has ever wished (and worked) hard enough to make their dreams come true.
Ballerina Dreams is the winner of the 2008 Bank Street - Flora Stieglitz Award.
About the Author
Joann Ferrara teaches Ballet and contributed to
Ballerina Dreams
from Feiwel & Friends.
LAUREN THOMPSON loved ballet class when she was a child, although she never got the chance to participate in a ballet recital. In creating BALLERINA DREAMS, she drew inspiration from her own memories as well as from conversations with the girls, their parents, and their teacher, Joann Ferrara. Ms. Thompson worked as a children's book editor for eighteen years before becoming a full-time writer. Her many picture books include POLAR BEAR NIGHT, which was a New York Times bestseller, and the MOUSE'S FIRST and LITTLE QUACK series, and most recently, THE APPLE PIE THAT PAPA BAKED. She lives in Brooklyn, New York with her husband and son.
JAMES ESTRIN is a senior staff photographer for the
New York Times
and was part of a
New York Times
Pulitzer prize-winning team. His work has appeared in dozens of books, including A NATION CHALLENGED, PORTRAITS OF GRIEF, THE CENTURY IN TIMES SQUARE, and JEWS IN AMERICA, and in thousands of newspapers and magazines throughout the world. He lives in Scarsdale, New York, with his wife, the writer Randy Banner, and their two children, Elizabeth, and Marshall.
Praise For Ballerina Dreams: A True Story…
"Thompson frames (the girls') story as one of a dream come true . . . and in describing the girls' work with their teacher . . . the author stresses what these girls might have in common with the audience--their excitement, their delight in their tutus and tiaras, their last-minute jitters, their unmistakable pleasure in dancing . . . The insightful presentation encourages readers not only to identify with the dancers, but to draw inspiration from them as well." —Publishers Weekly, starred review
"This is an inspiring portrayal of determination and love that will foster empathy among young readers. The colorful photographs of this dancing community working toward a common goal accurately and sensitively capture the struggles and joyful enthusiasm of all of the participants." —School Library Journal, starred review
"Ballerina Dreams is a beautifully photographed book . . . what comes across most strongly is the matching joy on all of (the girls') faces as they demonstrate the skills they have honed . . . a lovely gift to aspiring young dancers of all abilities." —National Center on Physical Activity and Disability (NCPAD)
"Inspiring." —The Washington Post
"This lovely book focuses on five little girls who long desperately to be ballerinas on stage . . . the overwhelming theme is simply joy. An example of a small idea making things better for a small group of children, this program is truly noteworthy, as is its loving founder." —Kirkus Reviews
"The images of openly thrilled performers, all supported from behind by teen helpers, are affecting in the extreme. With adult guidance, this will support character education units about perseverance, and young dancers drawn by the pink jacket (which doesn't hint at the girls' physical challenges) will emerge with a new empathy for those whose outward differences tend to set them apart." —Booklist
"[Ballerina Dreams] could go a long way to teach tolerance to today's youth, and remind adults that no dream is out of reach." —Oklahoma Gazette
"Get out the Kleenex! Ballerina Dreams by Lauren Thompson is such a charming, heartwarming, bittersweet book that you cannot fail to be moved." —Readia: Children's Book Reviews (blog)
"Five little girls with cerebral palsy and other physical disabilities share the dream of becoming ballerinas. With their powerful determination and the help of several committed teachers, these little girls get the chance to realize their dreams. …This touching story would be a useful resource in an early childhood educational setting as an example of individuals with different abilities or disabilities, and its message of determination in the face of adversity is one that parents and educators of children of all ages would find useful." —Children's Literature
or
Not Currently Available for Direct Purchase