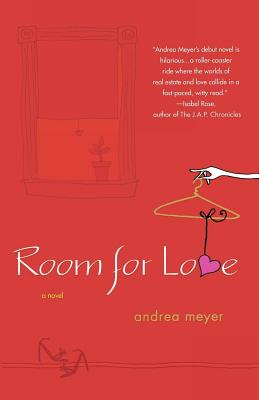 Room for Love
A Novel
Paperback

* Individual store prices may vary.
Description
Jacquie Stuart has just turned thirty-two and she wants to do a major rewrite on her life. Her salary at a snarky film magazine barely covers her mortgage, her bratty sister has staked permanent claim to her couch, her best friend is in an obscenely happy marriage, and the only guy who really gets her is gay. Worst of all, she keeps falling for broke, self-involved commitment-phobes. Needing moonlighting money, Jacquie gets the idea of investigating a new dating trend—looking for Mr. Right in the "Roommate Wanted" ads. After a bunch of colorful near-misses that bring her into the slums of the East Village, the brownstones of Brooklyn, and the dingier digs of the Upper East Side, Jacquie thinks she's finally found the man she's been looking for and stuns her friends by moving out of her beloved apartment—and into his. Complications ensue when her live-in love reveals some alarming imperfections, the irresistible artist who dumped her wants her back… and what is up with the mystery man living in the charming one-bedroom she left behind? Jacquie has been looking for love in other people's homes all over town, but could the key to her happiness lie right under her very own roof?
Praise For Room for Love: A Novel…
"Room for Love is a delightful read for any woman searching for that proverbial room of one's own. With writing that glitters like the NYC skyline itself, it's a smart and sexy urban romp that'll have everyone calling Meyer the downtown Candace Bushnell." —Erin Torneo, coauthor of The Bridal Wave: A Survival Guide to the Everyone-I-Know-is-Getting-Married Years

"Andrea Meyer's debut novel is hilarious and fun. A roller-coaster ride where the worlds of real estate and love collide in a fast pace, witty read. A real treat!" —Isabel Rose, author of The J.A.P. Chronicles

"Room for Love offers a laugh-out-loud funny, sizzling yet soulful urban story of sex and square feet." —Susan Shapiro, author of Lighting Up & Five Men Who Broke My Heart

"Hip and endearing all at the same time, Andrea Meyer's debut novel is a must read. Her characters are people you'd like to be friends with. Absolutely fabulous!" —Dee Davis, author of A Match Made on Madison

"Andrea Meyer has written a captivating and classic New York love story--the search for love through real estate in a city where both seem equally elusive. It will give anyone hope who still has an empty space on one side of their queen bed." —Liz Tucillo, co-author of He's Just Not That Into You
St. Martin's Griffin, 9780312370787, 304pp.
Publication Date: September 4, 2007
About the Author
ANDREA MEYER has written about film, entertainment and social trends for Variety, Time Out New York, Interview, Village Voice, Glamour, and the New York Post, the Daily News and the popular film Web site indieWIRE. After living in New York for thirteen years, Andrea moved to Los Angeles with her new husband and their two cats (none of whom she met in the roommate wanted ads).