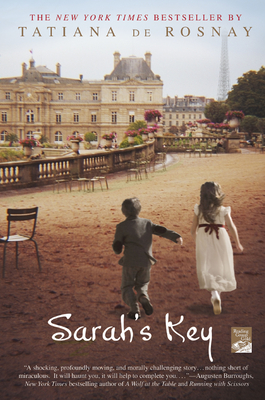 Sarah's Key (Paperback)
Griffin, 9780312370848, 293pp.
Publication Date: September 30, 2008
* Individual store prices may vary.
Description
Paris, July 1942: Sarah, a ten year-old girl, is brutally arrested with her family by the French police in the Vel' d'Hiv' roundup, but not before she locks her younger brother in a cupboard in the family's apartment, thinking that she will be back within a few hours.
Paris, May 2002: On Vel' d'Hiv's 60th anniversary, journalist Julia Jarmond is asked to write an article about this black day in France's past. Through her contemporary investigation, she stumbles onto a trail of long-hidden family secrets that connect her to Sarah. Julia finds herself compelled to retrace the girl's ordeal, from that terrible term in the Vel d'Hiv', to the camps, and beyond. As she probes into Sarah's past, she begins to question her own place in France, and to reevaluate her marriage and her life.
Tatiana de Rosnay offers us a brilliantly subtle, compelling portrait of France under occupation and reveals the taboos and silence that surround this painful episode.
About the Author
TATIANA DE ROSNAY is the author of more than ten novels, including the New York Times bestselling novel Sarah's Key, an international sensation with over 9 million copies sold in forty-two countries worldwide that has now been made into a major film. Tatiana lives with her husband and two children in Paris.
Praise For Sarah's Key…
"A wonderful book." --Joy Behar, The View 
"This is the shocking, profoundly moving and morally challenging story...  It will haunt you, it will help to complete you… nothing short of miraculous."  -Augusten Burroughs "Just when you thought you might have read about every horror of the Holocaust, a book will come along and shine a fierce light upon yet another haunting wrong.  SARAH'S KEY is such a novel.  In remarkably unsparing, unsentimental prose... through a lens so personal and intimate, it will make you cry--and remember." -Jenna Blum, author of Those Who Save Us "A haunting, riveting novel... This book grabs your heart in the opening chapter, and its scenes and characters stay with you long after you finish." --Publishers Weekly, a PW 2008 Staff Pick "Masterly and compelling, it is not something that readers will quickly forget. Highly recommended."-Library Journal, Starred Review
"Exceptional, emotional, and compelling…" – Sacramento Bee
"A powerful novel… Tatiana de Rosnay has captured the insane world of the Holocaust and the efforts of the few good people who stood up against it in this work of fiction more effectively than has been done in many scholarly studies. It is a book that makes us sensitive to how much evil occurred and also to how much willingness to do good also existed in that world." --Rabbi Jack Riemer, South Florida Jewish Journal "A remarkable novel written with eloquence and empathy." -Paula Fox, author of Borrowed Finery "A story of hearts broken, first by the past, then by family secrets, and the truth that begins to repair the pieces. A beautiful novel." -Linda Francis Lee, bestselling author of The Ex-Debutante "SARAH'S KEY unlocks the star crossed, heart thumping story of an American journalist in Paris and the 60-year-old secret that could destroy her marriage.  This book will stay on your mind long after it's back on the shelf." –Risa Miller, author of Welcome to Heavenly Heights "This is a remarkable historical novel... it's a book that impresses itself upon one's heart and soul forever." –Naomi Ragen, author of The Saturday Wife "
Sarah's Key
is told from both the perspective of an 10-year-old girl whose family is rounded up during the Vel D'Hiv in France in 1942 and an American who presently lives in Paris. The heartbreak is real, the love is true, and the need to find out how their two lives are connected made this one of my absolute favorites!" -Sarah Galvin, The Bookstore Plus, Lake Placid, NY "Just read
Sarah's Key
and LOVED IT... SUCH FUN TO DISCOVER A TREASURE.  THANKS FOR EVERYTHING." -Diane Garrett, Diane's Books of Greenwich "I was overwhelmed by a novel that I had missed when it first came our way--Sarah's Key.  It is a page-turner about World War II, the Holocaust and contemporary Paris.  I couldn't put it down."  -Roberta, The Book Stall at Chestnut Court (Front Line, Newsletter)  "Just as gripping as
The Diary of Anne Frank
and
Schindler's List
." -Ginny Thompson, Book Club Member  "
Sarah's Key
is the most compelling, gripping novel I've read in a long time.  Loved everything about it." -Audrey Raclaw, Book Club Member "An incredible story, beautifully written.  Could not put it down." -Georgia Kelly, Book Club Member "I will remember this story…..I enjoyed the characters and learned something about this period that was not a popular tale." -Barb Toslosky, Book Club Member "Wonderfully written.  Kept me on the edge of my seat every moment.  An emotional journey.  One of my favorite novels.  Up there with the best- If walls could talk.  An outstanding personalization of the horrors of the hococaust." -Charlotte Hanebuth, Book Club Member  "A beautifully written, poignant novel based on a shameful period in French history.  A must read for all lovers of historical fiction." -Barbara Mix, Book Club Member  "Totally excellent book.  Read it in one day.  The book made me aware of the French round up.  I would like to know if Julia and William got involved." -Kathleen McCann, Book Club Member  "Wonderfully written page turner.  Such an interesting and mysterious story!" -Sue Sneary, Book Club Member  "Tatiana's ability to get me into the 'head' of her characters is phenomenal.  I had such empathy for Julia and Sarah." -Kathleen Voight, Book Club Member  "The book is beautifully written – two stories that intersect in a Paris apartment.  Sarah's love of her brother filled her life with guilt, overshadowing her life with sadness." -Beth Carpenter, Book Club Member  "Wonderfully written one woman's quest for the truth." -Carol Adams, Book Club Member
What did you know about France's role in World War II—and the Vél d'Hiv round-up in particular—before reading Sarah's Key? How did this book teach you about, or change your impression of, this important chapter in French history?
Sarah's Key is composed of two interweaving story lines: Sarah's, in the past, and Julia's quest in the present day. Discuss the structure and prose-style of each narrative. Did you enjoy the alternating stories and time-frames? What are the strengths or drawbacks of this format?
Per above: Which "voice" did you prefer: Sarah's or Julia's? Why? Is one more or less authentic than the other? If you could meet either of the two characters, which one would you choose?
How does the apartment on la rue de Saintonge unite the past and present action—and all the characters—in Sarah's Key? In what ways is the apartment a character all its own in?
What are the major themes of Sarah's Key?
de Rosnay's novel is built around several "key" secrets which Julia will unearth. Discuss the element of mystery in these pages. What types of narrative devices did the author use to keep the keep the reader guessing?
Were you surprised by what you learned about Sarah's history? Take a moment to discuss your individual expectations in reading Sarah's Key. You may wish to ask the group for a show of hands. Who was satisfied by the end of the book? Who still wants to know—or read—more?

How do you imagine what happens after the end of the novel? What do you think Julia's life will be like now that she knows the truth about Sarah? What truths do you think she'll learn about her self?

Among modern Jews, there is a familiar mantra about the Holocaust; they are taught, from a very young age, that they must "remember and never forget" (as the inscription on the Rafle du Vél d'Hiv) Discuss the events of Sarah's Key in this context. Who are the characters doing the remembering? Who are the ones who choose to forget?

What does it take for a novelist to bring a "real" historical event to life? To what extent do you think de Rosnay took artistic liberties with this work?
Why do modern readers enjoy novels about the past? How and when can a powerful piece of fiction be a history lesson in itself ?
We are taught, as young readers, that every story has a "moral". Is there a moral to Sarah's Key? What can we learn about our world—and our selves—from Sarah's story?