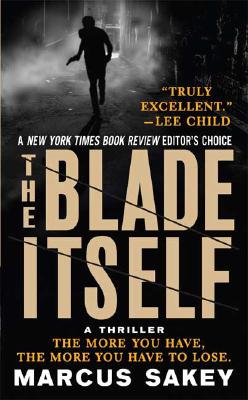 The Blade Itself (Mass Market Paperback)
Minotaur Books, 9780312371043, 352pp.
Publication Date: November 27, 2007
Other Editions of This Title:
Hardcover (1/9/2007)
* Individual store prices may vary.
Description
On the South Side of Chicago, you're only as strong as your reputation. Danny Carter and his best friend Evan earned theirs knocking over pawnshops and liquor stores, living from score to score, never thinking of tomorrow…until, in the roar of a gun blast, everything changed.
Years later, Danny has built a new life: a legitimate career, a long-term girlfriend, and a clean conscience. He's just like anyone else. Normal. Successful. Happy. Until then he spots his old partner staring him down in a smoky barroom mirror...

Now, with all he loves on the line and nowhere to turn, Danny realizes his new life hinges on a terrible choice: How far will he go to protect his future from his past?
About the Author
Marcus Sakey is an award-winning advertising writer. While researching "The Blade Itself" he shadowed homicide detectives, toured the morgue, and learned to pick a deadbolt in sixty seconds. Born in Flint, Michigan, he now lives in Chicago with his wife. Visit his Web site at www.MarcusSakey.com for contests, behind-the-scenes info, and an excerpt of his upcoming novel.
Praise For The Blade Itself…
"The first page-turner of 2007...this is how immortality gets started."--CBS Sunday Morning

"Few of us remember the debuts of some of today's best genre writers, such as Elmore Leonard and Stephen King…with the publication of Marcus Sakey's first novel, we have the chance to." --The Washington Post

"Truly excellent--like vintage Elmore Leonard crossed with classic Dennis Lehane. Buy it today and read it tonight." --Lee Child, bestselling author of Bad Luck and Trouble

"A white-knuckle story…with a cool, commanding style." --The New York Times Book Review

"Stunning…Sakey gets everything right. The Blade Itself moves at such lightning speed that its only flaw may be leaving us wanting more." --Florida Sun-Sentinel
"Sakey's brilliant debut is a must read. From the thrilling opening to the riveting ending, the tension ratchets up to almost unbearable levels." --Publishers Weekly (starred review)

"A rocket. Taut, involving, and memorable. Marcus Sakey is an original new voice in crime fiction."--George Pelecanos, author of Drama City

"Astoundingly good...the terrifically engaging, poetically structured tale of a man both tortured and tempted by his criminal past." --San Jose Mercury News
"This amazing debut reminds me why I keep reading."--Cleveland Plain Dealer

"Does not merely hint at greatness...this top-shelf crime novel delivers it." --Bookreporter.com
"Terrifically good--streetwise, heartfelt, and exciting. I loved this book." --T. Jefferson Parker, bestselling author of The Fallen
"Marcus Sakey. You'll want to remember his name so you can say you read him before he was a big shot." --Toledo Blade

"Keenly crafted and cinematic…Sakey holds a mirror up to the city and in its reflection captures local as well as universal truths." --Chicago Sun-Times

"Terrific." --The Globe & Mail (Toronto)

"A claustrophobic experience...had me whipping through the pages. BRAVO."--Shots Magazine

"One of the most stunning and appealing works of fiction I've ever read...the crime debut of the decade." --Victor Gischler, author of Gun Monkeys
or
Not Currently Available for Direct Purchase