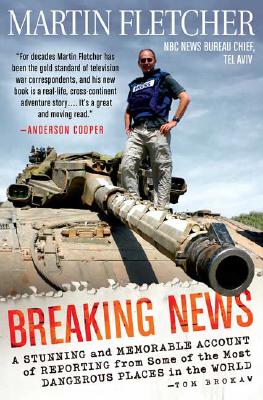 Breaking News: A Stunning and Memorable Account of Reporting from Some of the Most Dangerous Places in the World (Hardcover)
A Stunning and Memorable Account of Reporting from Some of the Most Dangerous Places in the World
Thomas Dunne Books, 9780312371180, 272pp.
Publication Date: March 4, 2008
* Individual store prices may vary.
or
Not Currently Available for Direct Purchase
Description
Martin Fletcher doesn't claim to be a hero. Yet he didn't flinch, either. During three decades covering wars, revolutions, and natural disasters, Fletcher worked his way from news agency cameraman to top network correspondent, facing down his own fears while facing up to mass killers, warlords, and murderers. With humor and elegance, Fletcher describes his growth from clueless adventurer to grizzled veteran of the world's battlefields. His working philosophy of "Get in, get close, get out, get a drink," put him repeatedly in harm's way, but he never lost sight of why he did it. In a world obsessed with celebrities, leaders, and wealth, Fletcher took a different route: he focused on those left behind, those paying the price. He answers the question: Why should we care?
These extraordinary, real-life adventure stories each examine different dilemmas facing a foreign correspondent. Can you eat the food of a warlord, who stole it from the starving? Do you listen politely to a terrorist threatening to blow up your children? Do you ask the tough questions of a Khmer Rouge killer, knowing he is your only ticket out of the Cambodian jungle? And above all, how do you stay sane faced with so much pain?
About the Author
Martin Fletcher is one of the most respected foreign correspondents in television news. He has covered almost every conflict and natural disaster in Europe, Africa, and the Middle East for thirty-five years, winning five Emmies, a Columbia University Dupont Award, several Overseas Press Club awards, and a cameraman's award from Britain's Royal Society of television. Fletcher and his wife, Hagar, have raised three sons. He is currently based in Israel, where he is NBC News bureau chief in Tel Aviv.
Praise For Breaking News: A Stunning and Memorable Account of Reporting from Some of the Most Dangerous Places in the World…
"For decades Martin Fletcher has been the gold standard of television war correspondents, and his new book, Breaking News, does not disappoint. It is a real-life, cross-continent adventure story, told by a man who has spent his life bearing witness to the good, the bad, and the brutal. It's a great and moving read."
- Anderson Cooper
"Martin Fletcher has given us a stunning and memorable account of the risks, rewards, complexities, and enduring lessons of reporting from some of the most dangerous places in the world. His family's Holocaust history frames his own eloquent insights and questions about the madness of the world that followed. I've known and admired Martin for more than thirty years, and this book makes me proud to call him friend and colleague."
- Tom Brokaw
"A page-turner and a marvelous read. Martin, the ever-dashing war correspondent, cheated death so many times that he should have been hardened. Instead you meet a soulful man."
- Connie Chung
Advertisement