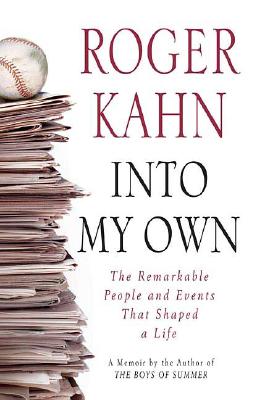 Into My Own: The Remarkable People and Events That Shaped a Life (Paperback)
The Remarkable People and Events That Shaped a Life
St. Martin's Griffin, 9780312371289, 320pp.
Publication Date: June 12, 2007
* Individual store prices may vary.
or
Not Currently Available for Direct Purchase
Description
Roger Kahn is one of America's foremost sportswriters. After successful seasons as a newspaperman and magazine writer, he burst onto the national scene in 1972 with his memorable bestseller, The Boys of Summer, a work that went beyond sports and captured the minds and hearts of millions across the country. Now in his eighth decade, Kahn has again written a book for the hearts and minds of his readers. Chronicling his own life, Into My Own is Kahn's reflection on the eight people who shaped him as a man, a father, and a writer.

In this poignant self-portrait, Kahn begins with his childhood in Brooklyn, reared on the verses of Homer, Shakespeare, Housman, and Millay---a curriculum set by his mother, and one that would influence his career with words. He combined his intellectual upbringing with his inherent passion for baseball, and began his sportswriting career under the legendary Stanley Woodward at the New York Herald Tribune. This lent Kahn the opportunity to interview and develop friendships with Pee Wee Reese and Jackie Robinson--men he knew and admired for reasons far beyond their baseball abilities.

Kahn's writing is by no means limited to his sports coverage, and on the political front he devotes chapters to Eugene McCarthy and Barry Goldwater, whom he interviewed for the Saturday Evening Post---two diverse men in a turbulent era who championed their distinct versions of idealism. The Post had earlier sent Kahn to interview poet Robert Frost at his home in Vermont, a rare opportunity for any journalist, and one that resulted in the development of a marked friendship between two men of words. Perhaps most touching is his account, straightforward but abrim with love, of the life and death---at twenty-three---of his scholar-athlete son, Roger Laurence Kahn.

Into My Own is the touching memoir of an unassuming man, whose great love of baseball and literature led him into extraordinary experiences, opportunities, and friendships. Even amidst great family tragedy and personal difficulty, Kahn has prevailed---amongst poets, writers, politicians, and most of all, ballplayers. Praise for Roger Kahn: "As a kid, I loved sports first and writing second, and loved everything Roger Kahn wrote. As an adult, I love writing first and sports second, and love Roger Kahn even more."
---Pulitzer Prize winner, David Maraniss

"He can epitomize a player with a single swing of the pen."
---Time magazine

"Roger Kahn is the best baseball writer in the business."
---Stephen Jay Gould, New York Review of Books

"A work of high moral purpose and great poetic accomplishment. The finest American book on sports."
---James Michener on The Boys of Summer

"Kahn has the almost unfair gift of easy, graceful writing."
---Boston Herald
About the Author
Roger Kahn is the author of nineteen books and hundreds of articles in national magazines such as "Esquire, Sports Illustrated, Time, " and "The Saturday Evening Post. "He has taught writing at various colleges and lectured at Yale, Princeton, and Columbia. Mr. Kahn held the distinguished position of Ottaway Professor of Journalism at SUNY New Paltz in the spring of 2004. He lives in Stone Ridge, New York, with his wife, the psychotherapist Katharine Johnson.
Advertisement