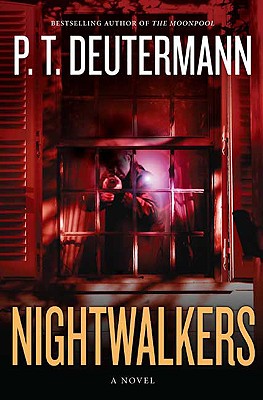 Nightwalkers (Hardcover)
St. Martin's Press, 9780312372415, 320pp.
Publication Date: May 26, 2009
* Individual store prices may vary.
or
Not Currently Available for Direct Purchase
Description
Cam Richter, needing a break from his too-eventful detective career, is in search of more peaceful pastures in the North Carolina countryside. He buys a seven hundred acre ante-bellum plantation, but it doesn't take long for him to discover that his new locale is not as quiet as he'd hoped.Almost immediately, Cam finds himself caught up in mischievous pranks around his land, the site of a Civil War-era massacre. When the pranks turn hostile, however, he realizes he's been targeted by a killer who holds him responsible for something Cam is pretty sure he never did. As he tries to find out why someone wants him dead, he begins to uncover the secrets of his plantation and how the land's tragic history is still tangled up in the present. Cam will need all of his resources, including his redoubtable German shepherd companions, to stay alive as he deals with a determined stalker, some very eccentric people, and all the entanglements of a place suddenly alive with secrets and the fruits of a bloody past.
About the Author
P.T. Deutermann spent twenty-six years in government service before retiring from active duty to begin his writing career. He is the author of thirteen previous novels. He lives with his wife on their family farm in North Carolina.
Praise For Nightwalkers…
P. T. Deutermann's prose crackles, his action starts at once and charges forward without ever giving you a headache or turning your stomach. In this novel his terrifically likable private detective Cam Richter closes up shop and retires (oh, sure). He buys a run-down Civil War plantation house and sets about fixing it up, only to discover that it has a brutally bloody history—it is the burial ground for victims of a mass murder in the civil war—and that there are folks out and around who somehow hold him responsible for . . . well, he can't tell what, but something they seem determined to kill over. Cam is the guy, you may remember, with the three German shepherds (Frick, Frack, and Kitty) and they play a pivotal part in the story all the way to the hair-raising climax that Deutermann typically, and gleefully, delivers. A wonderful read !ABOUT BOOKS BY CLAIRE ERNSBERGER, PH.D. A cast of eccentric Southern characters, several of whom could have escaped from the pages of Gone with the Wind, lifts Deutermann's winning fourth novel to feature PI Cam Richter (after The Moonpool). Cam, tired of suburban life, is buying Glory's End, a rundown plantation in Rockwell County, N.C. First, he must deal with a modern-day "ghost" - in cop parlance, someone just released from prison who decides to get revenge on the person who put him in jail. Then it's on to an even deadlier, more mysterious malefactor who's trying to kill him for reasons unknown. Cam's next door neighbors are Valeria Lee and her mother, Hester, who along with their lunatic relative, Maj. Courtney Woodruff Lee, dress and live in a strange antebellum past. The major likes to wear Confederate gray while spending his nights riding horseback around the countryside looking for Yankee spies. Cam's German shepherds, Frick, Frack and Kitty, help propel the action to an electrifying conclusion.Publishers Weekly, 2009  
Ex-cop Cameron Richter (Spider Mountain, 2007, etc.) plays cat-and-mouse with two murderous ghosts.
Since leaving the Manceford County, N.C., sheriff's office for private work, Cam Richter has been doing OK - actually, better than OK. The cases are interesting, even exciting on occasion, and Hide and Seek Investigations makes money with agreeable consistency. Still, Cam's begun to detect in himself telltale signs of diminishing enthusiasm. The siren song of retirement, usually muted, becomes unexpectedly clamorous the day he happens on the For Sale sign for Glory's End, the once elegant antebellum plantation sitting on 700 eye-catching acres in nearby Rockwell County. Spurred by restlessness, Cam buys it. Meanwhile, the first of Cam's ghosts has been sighted. For a lawman like Cam, a ghost is someone with a grudge against a cop that won't quit, someone prepared to haunt him until death, someone like Billie Ray Breen, just paroled from Alexander State Prison, where Cam had put him a few years back - he's a felon who makes not the least attempt to disguise his malicious intent. Ghost No. 2, a more obscure figure that seems to be linked to the murky history of Glory's End, tracks Cam with unnerving skill, leaving notes promising vengeance for a wrong Cam can't remember having perpetrated. This eerily enigmatic figure worries Cam far more than Billie Ray. Better the ghost you know, he thinks.
A rousing, spirited yarn.
Kirkus Review  Looking to slow his life down, PI Cam Richter moves away from the city and takes up residence in a Civil War-era plantation in North Carolina . But, as readers of the previous three Richter novels know, danger tends to follow Cam around like a puppy. It isn't long before he finds out that someone is trying to kill him and that the plantation might hold the key to the mystery. Richter is an easygoing, likable series hero, and Deutermann has a strong, fluid writing style that encourages you to hang around for awhile. The series is still relatively young, but it's already proven to be a winner.Booklist Review
Advertisement