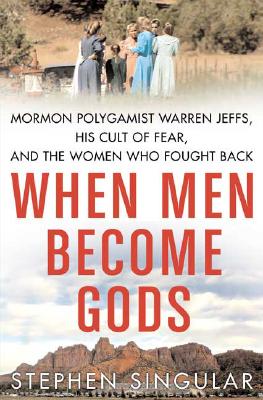 When Men Become Gods: Mormon Polygamist Warren Jeffs, His Cult of Fear, and the Women Who Fought Back (Hardcover)
Mormon Polygamist Warren Jeffs, His Cult of Fear, and the Women Who Fought Back
St. Martin's Press, 9780312372484, 304pp.
Publication Date: May 1, 2008
* Individual store prices may vary.
or
Not Currently Available for Direct Purchase
Description
In When Men Become Gods, New York Times bestselling author Stephen Singular casts a light on a dark corner of religious extremism. He reveals a group of fundamentalists operating in the present-day United States, where teenage girls are kept in virtual bondage in the name of upholding the "sacred principle" of polygamy.

As the leader and self-proclaimed prophet of the Fundamentalist Latter Day Saints, a sect of Mormonism based in isolated southern Utah, Warren Jeffs held sway over thousands of followers for nearly a decade. His rule was utterly tyrannical. In addition to coercing young girls into polygamous marriages with older men, Jeffs reputedly took scores of wives, many of whom were his father's widows. Television, radio, and newspapers were shunned, creating a hidden community where polygamy was prized above all else.

But in 2007, after a two-year manhunt that landed him on the FBI's Ten Most Wanted List, Jeffs's reign was forcefully ended. He was convicted of rape as an accomplice for his role in arranging a marriage between a fourteen-year-old girl and her nineteen-year-old first cousin.

In When Men Become Gods, Edgar Award nominee Stephen Singular traces Jeffs's rise to power and the concerted effort that led to his downfall. It was a movement championed by law enforcement, private investigators, the Feds, and perhaps most vocal of all, a group of former polygamous wives seeking to liberate young women from the arranged marriages they'd once endured. The book offers new revelations into a nearly impenetrable enclave---a place of nineteenth-century attire, inbreeding, and eerie seclusion---providing readers with a rare glimpse into a tradition that's almost a century old, but that has only now been exposed.
About the Author
Stephen Singular is a "New York Times "bestselling author and Edgar Award nominee. His book "Talked to Death "was made into the Oliver Stone film "Talk Radio." Singular has appeared on "Larry King Live," "Good Morning America," Court TV, and "Anderson Cooper 360."
Praise For When Men Become Gods: Mormon Polygamist Warren Jeffs, His Cult of Fear, and the Women Who Fought Back…
Praise for Stephen Singular

"A gripping and chilling tale . . . A solid account that will both fascinate and horrify."
---Publishers Weekly on Unholy Messenger

"A chilling examination of American-born right-wing terrorism."
---Chicago Tribune on Talked to Death
Advertisement