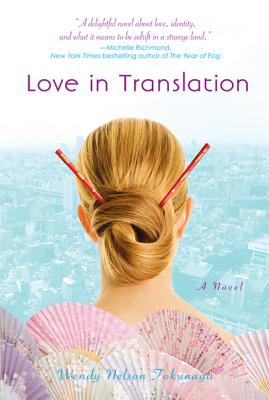 Love in Translation (Paperback)
Griffin, 9780312372668, 260pp.
Publication Date: November 24, 2009
Description
Stuck. That's how 33-year-old aspiring singer Celeste Duncan feels, with her deadbeat boyfriend and static career. But then Celeste receives a puzzling phone call and a box full of mysterious family heirlooms which just might be the first real clue to the identity of the father she never knew. Impulsively, Celeste flies to Japan to search for a long-lost relative who could be able to explain. She stumbles head first into a weird, wonderful world where nothing is quite as it seems--a land with an inexplicable fascination with foreigners, karaoke boxes, and unbearably perky TV stars.
With little knowledge of Japanese, Celeste finds a friend in her English-speaking homestay brother, Takuya, and comes to depend on him for all variety of translation, travel and investigatory needs. As they cross the country following a trail after Celeste's family, she discovers she's developing "more-than-sisterly" feelings for him. But with a nosy homestay mom scheming to reunite Takuya with his old girlfriend, and her search growing dimmer, Celeste begins to wonder whether she's made a terrible mistake by coming to Japan. Can Celeste find her true self in this strange land, and discover that love can transcend culture?
About the Author
Wendy Nelson Tokunaga received her MFA in writing from University of San Francisco, and her short stories have appeared in a variety of publications. She lives in San Francisco, California, with her Japanese-born surfer-dude/musician husband and their cat Meow.
Praise For Love in Translation…
"A delightful novel about love, identity, and what it means to be adrift in a strange land. This story of a search has an Alice in Wonderland vibe; when Celeste climbs down the rabbit hole, one can't help but follow along." –Michelle Richmond, New York Times bestselling author of Year of Fog
"Tokunaga... describe[s] Japanese culture in absorbing detail." --Publishers Weekly
"The engaging characters in this entertaining story will transport readers into a unique culture, giving them an eye-opening tour of Japan along the way.  It's a lot of fun watching someone whose world is turned upside down discover that the new configuration is exactly what's needed." -- Romantic Times BOOKReviews, 4 stars
"This story has a delightful plot with wonderful characterizations." --Affaire de Coeur
"A fun yet profound tale due to the lead female who uses self deprecating amusing metaphors." -- Harriet Klausner, Genre Go Round Reviews "
Love in Translation
is packed to the brim with adventure, love, and a lot of humor, and readers of any background will find something to enjoy within its pages." -- SKrishnasBooks.com
Praise for Midori by Moonlight:
"A delectably frothy debut."--Publishers' Weekly

"Tokunaga suffuses the book with warmth and lightness .....Just as the right dessert hits the spot, reading this delicious slice of escapism makes for a perfect afternoon....You'll muse for days about the characters you've left behind. --San Francisco Chronicle"[Midori by Moonlight] draws upon vivid imagery when defining traits of Japanese culture and really hits the nail on the head when depicting some American attitudes toward others.... witty and charming." —Charleston Gazette
Advertisement