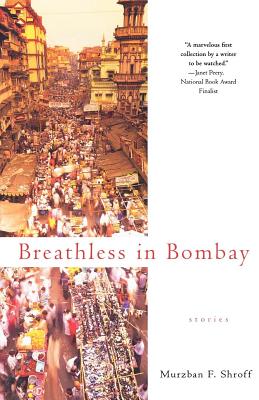 Breathless in Bombay (Paperback)
Stories
St. Martin's Griffin, 9780312372705, 320pp.
Publication Date: February 5, 2008
* Individual store prices may vary.
Description
Shortlisted for the 2009 Commomwealth Writers' Prize
Shroff's vibrant narratives in this concept collection of 14 stories set in contemporary Bombay feature a range of beautifully drawn characters in fascinating situations: from the laundrywallas' water shortage problems, to the doomed love affair of a schizophrenic painter and his Bollywood girlfriend, to the wandering thoughts of a massagewalla at Chowpatty Beach, to the heart-warming relationship of a carriage driver and his beloved horse. Each of these stories is richly crafted and arranged against the grand chaotic backdrop of life that is Bombay. Shroff's love for his hometown shines through, but so does his deep understanding of its challenges and problems. The reader is afforded an insider's view of this pulsating city, and through an unforgettable emotional and cultural journey comes to care for the characters presented in these stories.
About the Author
Murzban F. Shroff is a Bombay-born writer. His stories have been published in over 25 literary journals in the U.S., including the Gettysburg Review, the Louisville Review, the Minnesota Review, and the Southwest Review. He has received two Pushcart nominations and is currently at work on his first novel.
Praise For Breathless in Bombay: Stories…
". Breathless in Bombay pulses with desire and dreams and wrong and sorrow, with chaos singular and general, and ultimately, with hope. A marvelous first collection by a writer to be watched." —Janet Peery, author of What the Thunder Said, The River Beyond the World, and Alligator Dance
"Murzban Shroff's literary exploration of Bombay takes one to parts of the city one seldom sees. His compassion for his characters and their everyday trials comes through vividly in each story." —Thrity Umrigar, author of The Space Between Us, If Today Be Sweet and Bombay Time
"It's a rare thing to see human troubles described with such energetic good humor--Murzban Shroff leads you through the chaos of Mumbai with an avuncular arm around your shoulder and a spring in his step. Not since V. S. Naipaul's A House For Mister Biswas has the discomfort of people in their society been so engagingly chronicled--Shroff has written a stellar debut. We could use four or five of him." —J. Robert Lennon, author of Mailman and Pieces for the Left Hand
"In this excellent debut short-story collection, Murzban Shroff distills the delirious reality of Bombay into a vivid, multi-layered collage that's nothing short of stunning. It's all here -- the beauty, the suffering, the grinding wheel of modernization, the desperate machinations for love and money, plus a cast of characters that in its richness and scope rivals anything we find in Dickens, Balzac, or Tom Wolfe. Shroff writes with an energy and intensity equal to his subject, and has given us an extraordinary book that satisfies on every level." —Ben Fountain, author of Brief Encounters with Che Guevara
"Like James Joyce's Dubliners, Breathless in Bombay is a story collection that has the range and fullness of a novel. Shroff's empathy for his characters is filled with wisdom and great-heartedness, and his people and their city linger in the reader's mind long after the last page is turned." —Ron Rash, author of The World Made Straight, One Foot in Eden, and Chemistry and Other Stories
"With a sharp eye and a social conscience, Shroff illuminates the complexities of life at all levels of Mumbai's stratified society. A rich, insightful collection that is part travel-writing and part fiction, reading these stories is like visiting this great and chaotic city on the Arabian Sea." —Rishi Reddi, author of Karma and Other Stories