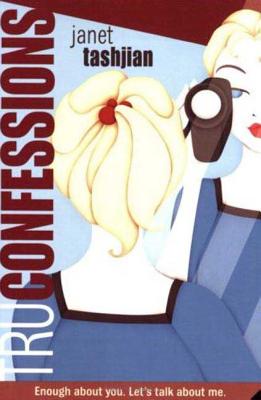 Tru Confessions (Paperback)
Square Fish, 9780312372736, 176pp.
Publication Date: October 16, 2007
Other Editions of This Title:
Hardcover (10/16/2007)
* Individual store prices may vary.
Description
Wish #1: To have my own television show.
Wish #2: For Eddie to be un-handicapped. (Eddie is my twin Brother.)
Wish #3: I don't really want anything else this year (except maybe to go out with Billy Meier).
Do wishes really come true? When Trudy Walker sees the ad from the local cable station, she truly believes they do. The station is looking to air demo tapes of shows created by and for teens. This could be Tru's big Break!
But lately Tru is distracted by Wish #2. She spends hours researching cures for Eddie online and filming his daily routine. If Tru becomes a star—if she just grows up—will she outgrow Eddie? Can she pursue her dreams and still be true to herself? Or is it all just wishful thinking
About the Author
Janet Tashjian is a middle-grade and young adult novelist who's been writing books for children for over two decades. Her first novel Tru Confessions was made into a critically acclaimed Disney TV movie starring Clara Bryant and Shia LaBeouf. The Gospel According to Larry series is a cult favorite and Fault Line is taught in many middle and high schools. Her bestselling My Life As a Book series is illustrated by her son, Jake. They also collaborated on the Einstein the Class Hamster series.
Janet collaborated with fellow Macmillan author Laurie Keller on the chapter book series Marty Frye, Private Eye. Janet currently lives in Los Angeles and made her new home city the setting of the Sticker Girl series, which details the adventures of Martina who overcomes being shy with the help of her magical stickers that come to life.
Praise For Tru Confessions…
"[Readers] will laugh their way through Tru's poignant and clever take on everyday life." —Publishers Weekly, Starred Review
"Fast and funny first-person novel." —Booklist
"This warm, funny debut has well-developed characters and a fast-moving plot." —Kirkus Reviews