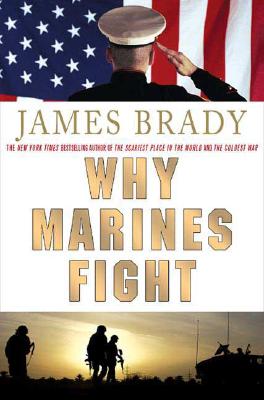 Why Marines Fight
Hardcover

* Individual store prices may vary.
Other Editions of This Title:
Digital Audiobook (11/12/2007)
Paperback (10/28/2008)
MP3 CD (11/13/2007)
Compact Disc (11/13/2007)
MP3 CD (11/13/2007)
Compact Disc (11/13/2007)
Compact Disc (11/13/2007)
Description
United States Marines, for more than two centuries, have been among the world's fiercest and most admired of warriors. They have fought from the Revolutionary War to Afghanistan and Iraq, in famous battles become bone and sinew of American lore. But why do Marines fight? Why fight so well? Why run toward the guns? Now comes a thrilling new book, pounding and magnificent in scope, by the author some Marines consider the unofficial "poet laureate" of their Corps.

James Brady interviews combat Marines from wars ranging from World War II to Afghanistan, their replies in their own individual voices unique and powerful, an authentically American story of a country at war, as seen through the eyes of its warriors.
Culling his own correspondence and comradeship with hundreds of fellow Marines, Brady compiles a story---lyrical and historical---of the motivations and emotions behind this compelling question. Included are the accounts of Senator James Webb and his lance corporal son, Jim; New York City police commissioner Ray Kelly; Yankee second baseman (and Marine fighter pilot) Jerry Coleman, and of teachers, firemen, authors, cops, Harvard football players, and just plain grunts, as well as the unforgettable story of Jack Rowe, who lost an eye and other parts and now grows avocados and chases rattlesnakes. Their stories poignantly and profoundly illustrate the lives and legacies of battlefront Marines.
Why Marines Fight is a ruthlessly candid book about professional killers not ashamed to recall their doubts as well as exult in their savagely triumphant battle cries. A book of weight and heft that Marines, and Americans everywhere, will want to read, and may find impossible to forget.
Praise for James Brady
The Scariest Place in the World
"[A] graceful, even elegant, and always eloquent tribute to men at arms in a war that, in a way, never ended."
---Kirkus Reviews
"James Brady has done it again. A riveting and illuminating insight into a dark corner of the world."
---Tim Russert, NBC's Meet the Press
The Coldest War
"His story reads like a novel, but it is war reporting at its best---a graphic depiction, in all its horrors, of the war we've almost forgotten."
---Walter Cronkite
"A marvelous memoir. A sensitive and superbly written narrative that eventually explodes off the pages like a grenade in the gut . . .taut, tight, and telling."
---Dan Rather
The Marine
"In The Marine, James Brady again gives us a novel in which history is a leading character, sharing the stage in this case with a man as surely born to be a gallant warrior as any knight in sixth-century Camelot."
---Kurt Vonnegut
The Marines of Autumn
"Mr. Brady knows war, the smell and the feel of it."
---The New York Times
Praise For Why Marines Fight…
"These inspirational tales cover as many Marine experiences as Brady can pack in."--Kirkus Reviews
"For anyone who wants to know how the U.S. Marine team works in war and peace, this book is indispensable."--Booklist (Starred review)
Thomas Dunne Books, 9780312372804, 320pp.
Publication Date: October 30, 2007
About the Author
The late James Brady commanded a Marine Corps rifle platoon during the Korean War and was awarded the Bronze Star for valor. He captured these experiences in his books "The Scariest Place in the World," "The Marine," his New York Times bestselling novels "Warning of War" and "The Marines of Autumn," and in his highly praised memoir, "The Coldest War." For more than two decades, he wrote the "In Step With" column for "Parade" magazine.
or
Not Currently Available for Direct Purchase