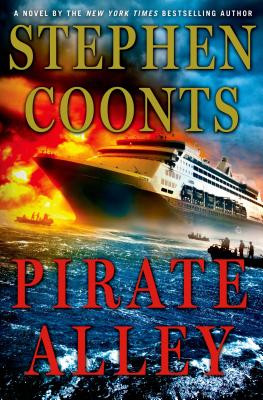 Pirate Alley (Hardcover)
St. Martin's Press, 9780312372842, 310pp.
Publication Date: May 7, 2013
Other Editions of This Title:
MP3 CD (5/7/2013)
Paperback (2/25/2014)
Compact Disc (5/1/2013)
MP3 CD (4/1/2014)
MP3 CD (5/7/2013)
Compact Disc (5/7/2013)
Hardcover, Large Print (6/5/2013)
Compact Disc (2/25/2014)
Pre-Recorded Audio Player (5/14/2013)
* Individual store prices may vary.
Description
Grafton and Carmellini are back and joined by the Navy SEALs to battle terrorists on the high seas in Pirate Alley, an action-packed tale by New York Times bestseller Stephen Coonts
A luxurious vacation cruise to the exotic locales of the Red Sea and the Gulf of Aden turns into a nightmare for passengers and crew when their ship is suddenly attacked and captured by a band of bloodthirsty Somali pirates. An initial rescue mission ends in failure; the decks are covered in blood.  Unless they are paid a ransom of $200 million dollars within seven days, the pirates threaten to execute all their hostages.  But information gleaned from a captured Al Qaeda operative indicates that there is a far more dangerous conspiracy afoot.
Once the ransom is paid, Islamic militants intend to swoop in and slaughter the passengers in an orgy of terror, hoping to provoke a massive American military response that will set the Muslim world aflame.  Jake Grafton is assigned to negotiate with the brutal pirate chief while his right hand man, Tommy Carmellini, and a team of CIA and Navy SEAL operatives mount an undercover operation to save the hostages and keep the U.S. from being maneuvered into a murderous war.
About the Author
STEPHEN COONTS is the author of many New York Times bestselling books that have been translated and published around the world. His books include The Disciple, The Assassin, and the Deep Black and Saucers series, among many other bestsellers. A former naval aviator and Vietnam combat veteran, he is a graduate of West Virginia University and the University of Colorado School of Law. He lives in Colorado.
Praise For Pirate Alley…
"Stephen Coonts proves once again, he is the master of the ship. This time in the terrorist infested high seas where Grafton and Carmellini, are fully-kitted, synched, and on target.  Pirate Alley is full-steam-ahead, action-packed, chaotic, and final—but with black cladded Navy SEALs in the mix, the fight is anything but fair." —Dalton Fury, New York Times bestselling author of Kill Bin Laden
"Pirate Alley is fast-moving, scary, and realistic.  Starting with a bang, it then gets even better. Steve gives us real pirates, not Johnny Depp with eye shadow." —Larry Bond, New York Times bestselling author of Exit Plan
"The one-sit read champion of the season, Stephen Coonts's Pirate Alley races though a maritime terrorist attack in the Red Sea, creating a vivid cast of heroes, victims and villains. It has the feel of a documentary but the soul of an intimate drama, a trick that's extremely hard to pull off."
—Stephen Hunter, New York Times bestselling author of I, Sniper, Point of Impact and The Third Bullet
"Steve Coonts is a masterful storyteller—and PIRATE ALLEY his most chilling thriller yet. Never will you see the duplicity of world politics—let alone cruise ships and Somali bandits—in the same light again." —W.E.B. Griffin & William E. Butterworth IV, bestselling authors of EMPIRE AND HONOR and THE LAST WITNESS
"Start with a band of ruthless Somali pirates in a story that has too often shown up on the front pages of the New York Times, add Jake Grafton and Tommy Carmellini, plus a heavy dose of SEALs on the hunt, and Stephen Coonts's new novel PRIATE ALLEY is one hell of a read!  A tale of modern day swashbucklers whose leader is the most ruthless pirate since Blackbeard makes for a book you simply cannot put down.  Hats off to Steve for another rip roaring story." —David Hagberg, author of Abyss
"A great, realistic read that could mirror current events.  Coonts details this ship high-jacking and take-down as if he has first hand experience WITH the SEAL Teams.  After reading this, you will want to postpone that cruise that goes anywhere near the Horn of Africa." —Howard Wadsin, author of Seal Team Six 
"Stephen Coonts takes another master turn with Pirate Alley. . . . Coonts weaves a realistic and frightening multi-layered story. . . . The buildup and final denouement will cost more than a few readers a good night's sleep—and change the way you view pirates, cruise ships and Washington forever." —Jim DeFelice, best-selling author of American Sniper and The Helios Conspiracy
"Start Pirate Alley at your peril and then plan for a long night. You won't be able to put it down....Filled with the courage and smarts of Stephen Coonts' SEAL Team heroes. —Former Defense Secretary William Cohen
or
Not Currently Available for Direct Purchase