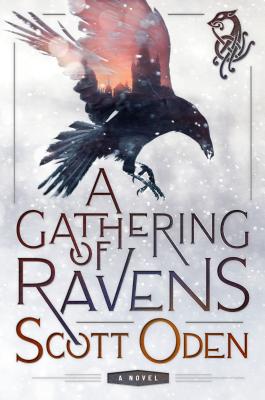 A Gathering of Ravens
A Novel (Grimnir Series #1)
Hardcover

* Individual store prices may vary.
Other Editions of This Title:
Compact Disc (5/19/2020)
Paperback (1/14/2020)
MP3 CD (5/19/2020)
Description
Scott Oden's epic novel A Gathering of Ravens is "satisfying...complex...and a pleasure to read" (Publishers Weekly, starred review).
To the Danes, he is skraelingr; to the English, he is orcnéas; to the Irish, he is fomoraig. He is Corpse-maker and Life-quencher, the Bringer of Night, the Son of the Wolf and Brother of the Serpent. He is Grimnir, and he is the last of his kind—the last in a long line of monsters who have plagued humanity since the Elder Days.
Drawn from his lair by a thirst for vengeance against the Dane who slew his brother, Grimnir emerges into a world that's changed. A new faith has arisen. The Old Ways are dying, and their followers retreating into the shadows; even still, Grimnir's vengeance cannot be denied.
Taking a young Christian hostage to be his guide, Grimnir embarks on a journey that takes him from the hinterlands of Denmark, where the wisdom of the ancient dwarves has given way to madness, to the war-torn heart of southern England, where the spirits of the land make violence on one another. And thence to the green shores of Ireland and the Viking stronghold of Dubhlinn, where his enemy awaits.
But, unless Grimnir can set aside his hatreds, his dream of retribution will come to nothing. For Dubhlinn is set to be the site of a reckoning—the Old Ways versus the New—and Grimnir, the last of his kind left to plague mankind, must choose: stand with the Christian King of Ireland and see his vengeance done or stand against him and see it slip away?
Scott Oden's A Gathering of Ravens is a novel of vengeance, faith, and the power of myth.
Praise For A Gathering of Ravens: A Novel (Grimnir Series #1)…
Praise for A Gathering of Ravens:

"This fast-paced thrill ride might have been bleak or unsettling, but it's rendered so lovingly that it reveals new layers of familiar territory. The fresh viewpoint is steeped in an appreciation for the terrifying and powerful characters of high fantasy, and Oden does them justice. He provides a satisfying saga that's as complex as an old tree's roots, and a pleasure to read." —Publishers Weekly (starred review)

"Oden mixes an exciting and vibrant narrative with a wealth of historical detail to bring Grimnir and his world to life, providing the reader with an immensely satisfying and rewarding experience. Fans of Oden's previous work, or of historical fantasy in general, will definitely want to give it a look, as will any fantasy or even general reader looking for an evocative and engaging read." —Booklist

"This novel creates a rich, grim fantasy world made from Norse, Anglo-Saxon and Celtic myth with strands of Tolkien.... Recommended for lovers of Tolkien, dark fantasy and northern mythology." —Historical Novel Society
"Ambitious in scope and audacious in its execution, A Gathering of Ravens spectacularly weaves together the threads of history and mythological tradition, spiriting readers away on a journey through legend and time. A master storyteller, author Scott Oden has combined elements from Norse and Celtic lore with the richness of the early medieval landscape to create a novel that is epic in every sense; we have bloodshed and triumph, love and loss, tragedy and hope…and yes, we also have an Orc." —The BiblioSanctum blog
"I thoroughly enjoyed A Gathering of Ravens. It's a magnificent mytho-historical saga, blending the history of 11th century Europe with Norse and Celtic mythology. A dark, grim and unrelentingly bloody tale of the last Orc and his quest for vengeance. Highly recommended." —John Gwynne, author of Wrath (Book Four of The Faithful and the Fallen)
"Scott Oden's A Gathering of Ravens is everything that a Grimdark novel should be, sharp witted, dark and dangerous. Highly recommended for anyone who loves action, good characters and, you know, an amazing story. I loved it!" —James A. Moore author of the Seven Forges series and The Last Sacrifice
"The story is imposing and dark, deftly woven by Oden to mix legend and history, telling of the last Orc and his quest for revenge. If you like action, complex characters, and gory battles, this book is worth reading." Fantasy Faction blog
"Norse and Celtic mythology are beautifully woven in this historical fantasy novel set in medieval Europe, where the battle between the Old and New religions are at its peak. With his masterful storytelling skills, Scott Oden spirits the reader across different legends and lore while introducing a diverse cast of characters, including Grimnir, our not-so-normal protagonist who is the last of his kind.... Overall, this is a really well-written novel with a fantastic plot, group of characters and a magical fantasy world. A Gathering of Ravens is a must-read for historical fantasy lovers!" —The Nerd Daily
"Set in a vividly-imagined world where history and myth blur, Scott Oden's gripping and bloody tale of monsters and men carves out a fantastic new legend for this modern age." —James Wilde, author of the Hereward series and the forthcoming pre-Arthurian epic Pendragon
"A grand, dark, historical fantasy/adventure, full of blood and steel and battle, Scott Oden's A Gathering of Ravens is not to be missed. More The Broken Sword than Lord of the Rings, this is Norse Fantasy with a Vengeance. Grab your axe and line up for the shield wall, and Odin count the dead." —Charles R. Rutledge, co-author of Blind Shadows and Congregations of the Dead
"An amazing work of fantasy with a very real touch of both humanity and the weight of history. While reading it, I lost many hours of sleep because I didn't want to put the book down. Oden has populated his strange world with witches, monsters, Vikings, warriors, cowards, and everything in between. It's safe to say he's gained another fan after writing this book!" —Charnel House Reviews
"Scott Oden has done it! It's all about the characters. Do not judge Grimnir too fast; he's written like someone writes about a multilayered human. It gives me goosebumps sometimes to read something this good that is inspired by something I composed." - Simon Kölle, International Film Composer and the founder of Za Frûmi
"Scott Oden has done a marvelous job of weaving his tale of myths, legends and history into a tale that feels like an ancient chronicle a fable for warriors, remembering their history, recounting the glory of the old gods in the face of the new one. . . this really is a book not to miss." —Parmenion Books blog
"Scott Oden has a novel that is one of the best books I have read in a long time. I expect it to stay firmly planted at the top of my best of 2017 list. I rarely have such a bond with a book and a character as I have with A gathering of Ravens and with Grimnir. I am beside myself with excitement to see what comes next in this epic saga!" —Mighty Thor JRS blog

"From the first appearance of Grimnir to the final showdown at Clontarf, the pace never lets up. With an intimate and detailed knowledge of the history and legends of Northern Europe, [Oden] has told a tale that lives and breathes "that Northern Thing." You can smell the surf, the heath, and sense the sidhe lurking just beyond your field of vision. Oden writes in clean, clear prose, never letting his characters get crushed under the weight of bad archaisms or ruined by inappropriate modern speech. A Gathering of Ravens belongs on the same shelf as the best modern swords & sorcery novels, and on the shelf of any serious swords & sorcery reader." —Black Gate blog
"Right from the start this book draws you in with its evocative imagery and beautifully-described landscapes. In a subtle way, Oden leads you into Grimnir's world as he sees it.... If you like your fantasy Tolkienesque with deep roots, then this novel is for you, and like many legends in truth, it is not exactly a story of justice or redemption, but it is a tale that must play itself out to its very end, a tale you cannot help but get drawn into. —Forbidden Planet International blog
Praise for Scott Oden's previous books:

"Oden's masterful story of bloody battles, political intrigues, betrayal and romance offers a gripping portrait of the collapse of an empire." —Publisher's Weekly (starred review) on Men of Bronze
The mark of exceptional historical fiction is its creation of an alien world so convincing (and peopled by such fascinating characters) that the reader never wants to go back to the real world. Scott Oden delivers exactly that in The Lion of Cairo, a tale of Assad the assassin that reads like a cross between the Arabian Nights and a Hollywood blockbuster. Memnon and Men of Bronze put Mr. Oden squarely on the hist/fiction map. The Lion of Cairo assures his place in the very front rank. —Steven Pressfield, New York Times bestselling author of Gates of Fire
"Oden...brings the man and his times to life with a combination of vivid conjecture, deft plotting and graceful prose." —Publishers Weekly on Memnon
Thomas Dunne Books, 9780312372941, 336pp.
Publication Date: June 20, 2017
About the Author
SCOTT ODEN was born in Indiana, but has spent most of his life shuffling between his home in rural North Alabama, a Hobbit hole in Middle-earth, and some sketchy tavern in the Hyborian Age. He is an avid reader of fantasy and ancient history, a collector of swords, and a player of tabletop role-playing games. When not writing, he can be found walking his two dogs or doting over his lovely wife, Shannon.
Oden's books include the historical fantasy, The Lion of Cairo, and the historical novels, Men of Bronze and Memnon.
or
Not Currently Available for Direct Purchase