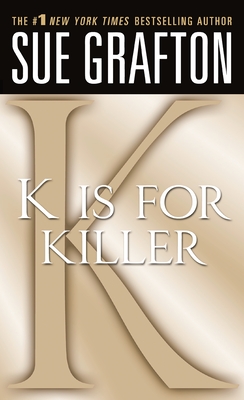 K Is for Killer (Mass Market Paperbound)
St. Martin's Press, 9780312373122, 337pp.
Publication Date: November 3, 2009
Description
Lorna Kepler was beautiful and willful, a loner who couldn't resist flirting with danger. Maybe that's what killed her.
Her death had raised a host of tough questions. The cops suspected homicide, but they could find neither motive nor suspect. Even the means were mysterious: Lorna's body was so badly decomposed when it was discovered that they couldn't be certain she hadn't died of natural causes. In the way of overworked cops everywhere, the case was gradually shifted to the back burner and became another unsolved file.
Only Lorna's mother kept it alive, consumed by the certainty that somebody out there had gotten away with murder.
In the ten months since her daughter's death, Janice Kepler had joined a support group, trying to come to terms with her loss and her anger. It wasn't helping. And so, leaving a session one evening and noticing a light on in the offices of Millhone Investigations, she knocked on the door.
In answering that knock, Kinsey Millhone is pulled into the netherworld of unavenged murder, where only a pact with the devil will satisfy the restless ghosts of the victims and give release to the living they have left behind.
Eleven books into the series that has won her readers around the world, Sue Grafton takes a darkside turn, pitching us into a shadow land of pain and grief where killers still walk free, unaccused, unpunished, unrepentant. With ""K" is for Killer" she offers a tale that is dark, complex, and deeply disturbing.
About the Author
Sue Grafton entered the mystery field in 1982 with the publication of 'A' Is for Alibi, which introduced female hard-boiled private investigator, Kinsey Millhone, operating out of the fictional town of Santa Teresa, (aka Santa Barbara) California. 'B' is for Burglar followed in l985 and the series, now referred to as 'the alphabet' mysteries, is still going strong. In addition to her books, she's published several Kinsey Millhone short stories, and with her husband, Steven Humphrey, has written numerous movies for television, including "A Killer in the Family" (starring Robert Mitchum), "Love on the Run" (starring Alec Baldwin and Stephanie Zimbalist) and two Agatha Christie adaptations, "Sparkling Cyanide" and "Caribbean Mystery," which starred Helen Hayes. Grafton is published in 28 countries and 26 languages. She loves cats, gardens, and good cuisine. Sue has a home in Montecito, California, and another in Louisville, the city in which she was born and raised.
Praise For K Is for Killer…
PHENOMENAL PRAISE FOR THE MYSTERY NOVELS OF #1 NEW YORK TIMES BESTSELLING AUTHOR SUE GRAFTON
 "Exceptionally entertaining…an offbeat sense of humor and a feisty sense of justice."—San Francisco Chronicle
"Millhone is an engaging detective-for-hire…P.I. Kinsey Millhone and her creator…are arguably the best of [the] distaff invaders of the hitherto sacrosanct turf of gumshoes."—The Buffalo News
"Once a fan reads one of Grafton's alphabetically titled detective novels, he or she will not rest until all the others are found."—Los Angeles Herald Examiner
"Millhone is a refreshingly strong and resourceful female private eye."—Library Journal
"Tough but compassionate…There is no one better than Kinsey Millhone."—Best Sellers
"A woman we feel we know, a tough cookie with a soft center, a gregarious loner."—Newsweek
"Lord, how I like this Kinsey Millhone…The best detective fiction I have read in years."—The New York Times Book Review
"Smart, tough, and thorough…Kinsey Millhone is a pleasure."—The Bloomsbury Review
"Kinsey is one of the most persuasive of the new female operatives…She's refreshingly free of gender clichés. Grafton, who is a very witty writer, has also given her sleuth a nice sense of humor—and a set of Wonder Woman sheets to prove it."—Boston Herald
"What grandpa used to call a class act."—Stanley Ellin
"Smart, sexual, likable and a very modern operator."—Dorothy Salisbury Davis
"Kinsey's got brains and a sense of humor."—Kirkus Reviews
Advertisement