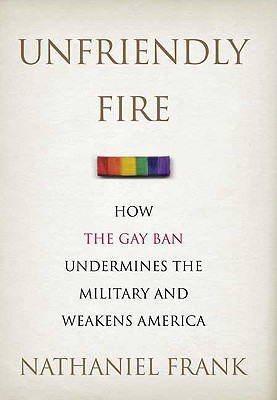 Unfriendly Fire (Hardcover)
How the Gay Ban Undermines the Military and Weakens America
Thomas Dunne Books, 9780312373481, 368pp.
Publication Date: March 3, 2009
Other Editions of This Title:
Paperback (3/2/2010)
* Individual store prices may vary.
Description
When the "don't ask, don't tell" policy emerged as a political compromise under Bill Clinton in 1993, it only ended up worsening the destructive gay ban that had been on the books since World War II. Drawing on more than a decade of research and hundreds of interviews, Nathaniel Frank exposes the military's policy toward gays and lesbians as damaging and demonstrates that "don't ask, don't tell" must be replaced with an outright reversal of the gay ban.
Frank is one of the nation's leading experts on gays in the military, and in his evenhanded and always scrupulously documented chronicle, he reveals how the ban on open gays and lesbians in the U.S. military has greatly increased discharges, hampered recruitment, and—contrary to the rationale offered by proponents of the ban—led to lower morale and cohesion within military ranks.
Frank does not shy away from tackling controversial issues, and he presents indisputable evidence showing that gays already serve openly without causing problems, and that the policy itself is weakening the military it was supposed to protect. In addition to the moral pitfalls of the gay ban, Frank shows the practical damage it has wrought. Most recently, the discharge of valuable Arabic translators (who happen to be gay) under the current policy has left U.S. forces ill-equipped in the fight against terrorism.
Part history, part exposé, and fully revealing, Unfriendly Fire is poised to become the definitive story of "don't ask, don't tell." This lively and compelling narrative is sure to make the blood boil of any American who cares about national security, the right to speak the truth, or just plain common sense and fairness.
About the Author
Nathaniel Frank is a senior research fellow at the Palm Center at the University of California, Santa Barbara, and teaches history on the adjunct faculty at New York University's Gallatin School of Individualized Study. His publications on gays in the military and other topics have appeared in "The""New York Times," """The""Washington Post," " The New Republic," " Slate," " Los Angeles Times," """The""Huffington Post," " Newsday," "The Philadelphia Inquirer," " Lingua Franca," ""and others, and his research and opinions have been cited on the Congressional floor, in syndicated columns, in the blogosphere, the "New York Post," "The Advocate," "National Review Online," the AP, and other venues, including university syllabi and media roundups. Frank earned his M.A. and Ph.D. in History at Brown University. He lives in Brooklyn, New York.
Praise For Unfriendly Fire: How the Gay Ban Undermines the Military and Weakens America…
"Mr. Frank has also been offering succinct five-minute synopses of his argument as he makes the rounds of the talk show circuit. So why does his book, "Unfriendly Fire," need nearly 300 pages of text to make the same relatively simple points? Because he makes them so discerningly, so substantively and so well...."Unfriendly Fire" offers a sharp, vigorously framed analysis of this state of affairs....The main attraction in "Unfriendly Fire" is the agility and tough-mindedness with which Mr. Frank presents his arguments."--The New York Times "Unfriendly Fire reads like a crisp, confident, tightly focused legal brief appealing an unconscionable decision; pity the opposing advocate who must answer it point by point."--The Washington Monthly
"In 1993, when I was Chairman of the Joint Chiefs, I felt that the policy was right for the times. Frank makes a compelling case not only that there has been a shift within our society, but that the time has come to look beyond our preconceptions and focus on capabilities. This book should be mandatory reading for anyone with an interest in the state of our society or the readiness of our military." —General John Shalikashvili, former Chair of the Joint Chiefs of Staff, U.S. Armed Forces

"This book lays out clearly, fairly, dispassionately, and accurately the terrible cost to our national security of this insane policy." —Andrew Sullivan, author of The Daily Dish blog and of The Conservative Soul: How We Lost It, How to Get It Back

"Frank's lucid and timely book should put to rest any lingering doubt about whether 'don't ask, don't tell' is working—it's been a failure from day one and should finally be put behind us." —Congressman Patrick J. Murphy, member of the House Armed Services Committee and Select Committee on Intelligence, and former captain in the U.S. Army's 82nd Airborne Division

"Here is a book from a leading scholar that cuts through the ignorance, the denial, and the prejudice to explain how we got stuck with a policy that was doomed to fail. Our military and our nation owe Frank a debt of gratitude." —Dr. Lawrence J. Korb, former Assistant Secretary of Defense under Ronald Reagan

"Frank puts a human face on the flaws in this policy." —Marty Meehan, Chancellor of University of Massachusetts Lowell, and former congressman

"This is a valuable contribution and worthwhile reading for all who care about justice and equality. On behalf of the clients we serve and all service members who wear the uniform and must serve in silence, I salute Dr. Frank and his distinguished colleagues at the Palm Center." —Aubrey Sarvis, Esq., Executive Director of the Servicemembers Legal Defense Network
or
Not Currently Available for Direct Purchase