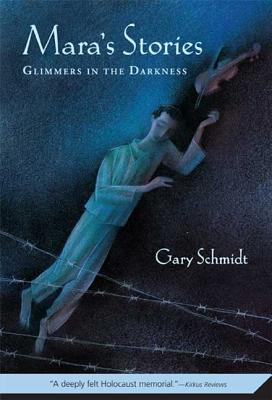 Mara's Stories (Paperback)
Glimmers in the Darkness
Square Fish, 9780312373887, 160pp.
Publication Date: March 4, 2008
* Individual store prices may vary.
Description
A testament to the power of stories, and how they may bring hope even in times of darkness.
As night falls, the women gather their children to listen to Mara tell her stories. They are stories of light and hope and freedom, stories of despair and stories of miracles, stories of expected pain and stories of unexpected joy--all told in the darkness of the concentration camp barracks.
Through extensive research noted in the back of the book, Gary Schmidt has skillfully woven together stories from such sources as the Jewish religious scholar, Martin Buber; Holocaust survivor, Elie Wiesel; and folklorists, Steve Zeitlin and Yaffa Eliach. Combining lore of the past with tales born in the concentration camps, Mara's stories speak to us from a time that must never be forgotten.
About the Author
Gary D. Schmidt is a professor of English at Calvin College in Grand Rapids, Michigan. He received both a Newbery Honor and a Printz Honor for Lizzie Bright and the Buckminster Boy and a Newbery Honor for The Wednesday Wars. He lives with his family on a 150-year-old farm in Alto, Michigan, where he splits wood, plants gardens, writes, and feeds the wild cats that drop by.
Praise For Mara's Stories: Glimmers in the Darkness…
"[Schmidt] leaves specific atrocities between the lines, but effectively conveys a sense of the time's 'soul terror,' adding a leavening of humor and plenty of searching, not-easily-answered questions for the young readers to ponder. Gold, indeed." —Kirkus Reviews
"The twenty-three stories . . . are sometimes funny, often sad, but always profound." —Voice of Youth Advocates
"Schmidt's retellings are succinct and dramatic; stories of miraculous endurance, impossible escapes, and final redemption are presented with a brevity that never undercuts their power." —The Bulletin of the Center for Children's Books