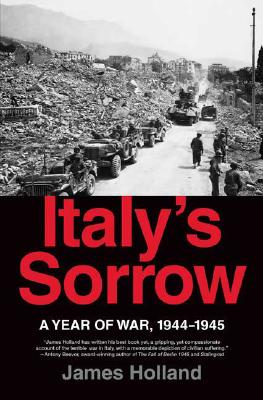 Italy's Sorrow (Hardcover)
A Year of War, 1944--1945
St. Martin's Press, 9780312373962, 656pp.
Publication Date: April 1, 2008
* Individual store prices may vary.
Description
During the Second World War, the campaign in Italy was the most destructive fought in Europe – a long, bitter and highly attritional conflict that raged up the country's mountainous leg. For frontline troops, casualty rates at Cassino and along the notorious Gothic Line were as high as they had been on the Western Front in the First World War. There were further similarities too: blasted landscapes, rain and mud, and months on end with the front line barely moving.
And while the Allies and Germans were fighting it out through the mountains, the Italians were engaging in bitter battles too. Partisans were carrying out a crippling resistance campaign against the German troops but also battling the Fascists forces as well in what soon became a bloody civil war. Around them, innocent civilians tried to live through the carnage, terror and anarchy, while in the wake of the Allied advance, horrific numbers of impoverished and starving people were left to pick their way through the ruins of their homes and country. In the German-occupied north, there were more than 700 civilian massacres by German and Fascist troops in retaliation for Partisan activities, while in the south, many found themselves forced into making terrible and heart-rending decisions in order to survive.
Although known as a land of beauty and for the richness of its culture, Italy's suffering in 1944-1945 is now largely forgotten. This is the first account of the conflict there to tell the story from all sides and to include the experiences of soldiers and civilians alike. Offering extensive original research, it weaves together the drama and tragedy of that terrible year, including new perspectives and material on some of the most debated episodes to have emerged from the Second World War.
About the Author
James Holland was born in Salisbury, Wiltshire, and studied history at Durham University. A member of the British Commission for Military History and the Guild of Battlefield Guides, he also regularly contributes reviews and articles in national newspapers and magazines. He is the author of three previous historical works - "Fortress ""Malta"" An ""Island"" Under Siege, 1940-1943; Together We Stand: North Africa 1942-1943 - Turning the Tide in the West; "and "Heroes: The Greatest Generation and the Second World War. "His many interviews with veterans of the Second World War are available at the Imperial War Museum. James Holland is married with two children and lives in Wiltshire.
Praise For Italy's Sorrow: A Year of War, 1944--1945…
Praise for Italy's Sorrow:
'James Holland has written his best book yet, a gripping, yet compassionate account of the terrible war in Italy, with a memorable depiction of civilian suffering.'-- Antony Beevor, award-winning author of The Fall of Berlin 1945 and Stalingrad
Praise for Together We Stand:
"Compelling and detailed...Entertaining though scholarly, this exhaustively researched narrative moves seamlessly from the exalted strategy conferences of generals and presidents to the individual grunt on the front line, offering as complete a portrait of this important episode in WWII as we are likely to see."--Publishers Weekly
"Holland deftly brings alive this harrowing and heroic story."--James Bradley, author of Flags of Our Fathers
"Holland tells the story brilliantly. He has delved in archives for letters and diaries and diligently tracked down survivors…Holland is also excellent on high strategy and the strengths and weaknesses of commanders…Vivid, intelligently, movingly, Holland's monumental chronicle tells it like it was."--Mail on Sunday (UK)
"His first book of military history, Fortress Malta, proclaimed the arrival of a promising talent. This one confirms it. With the sixtieth anniversary of the end of the war in Europe upon us, the bookshops are currently awash with Second World War titles. This one stands out from the crowd."--Literary Review (UK)
Praise for Fortress of Malta:
"[A] superbly engaging history."--Publishers Weekly
"Powerful…Behind most great epic battles are the individual tales of human endurance and triumph, shards of tile that comprise the entire mosaic. Mr Holland provides those with painstaking care, frequently overlapping the daily lives of his subjects in real time, minute by minute…both a scholarly work and a gripping read…his meticulously researched book."--Washington Times
"Combines painstaking research with effortless prose…a brilliant debut."--Sunday Telegraph (UK)
or
Not Currently Available for Direct Purchase