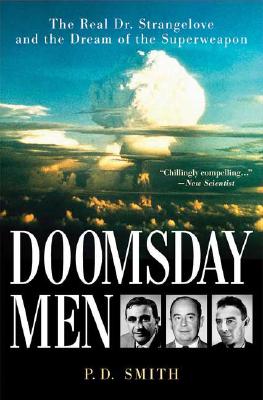 Doomsday Men
The Real Dr. Strangelove and the Dream of the Superweapon
Hardcover

* Individual store prices may vary.
Description
This is the gripping, untold story of the doomsday bomb—the ultimate weapon of mass destruction. In 1950, Hungarian-born scientist Leo Szilard made a dramatic announcement on American radio: science was on the verge of creating a doomsday bomb. For the first time in history, mankind realized that he had within his grasp a truly God-like power, the ability to destroy life itself. The shockwave from this statement reverberated across the following decade and beyond.
If detonated, Szilard's doomsday device—a huge cobalt-clad H-bomb—would pollute the atmosphere with radioactivity and end all life on earth. The scientific creators of such apocalyptic weapons had transformed the laws of nature into instruments of mass destruction and for many people in the Cold War there was little to distinguish real scientists from that "fictional master of megadeath," Stanley Kubrick's Dr. Strangelove. Indeed, as PD Smith's chilling account shows, the dream of the superweapon begins in popular culture. This is a story that cannot be told without the iconic films and fictions that portray our deadly fascination with superweapons, from H.G. Wells' The War of the Worlds to Nevil Shute's On the Beach and Kubrick's Dr. Strangelove or: How I Learned to Stop Worrying and Love the Bomb.
Although scientists admitted it was possible to build the cobalt bomb, no superpower would admit to having created one. However, it remained a terrifying possibility, striking fear into the hearts of people around the world. The story of the cobalt bomb is an unwritten chapter of the Cold War, but now PD Smith reveals the personalities behind this feared technology and shows how the scientists responsible for the twentieth century's most terrible weapons grew up in a culture dreaming of superweapons and Wellsian utopias. He argues that, in the end, the doomsday machine became the ultimate symbol of humanity's deepest fears about the science of destruction.
Praise For Doomsday Men: The Real Dr. Strangelove and the Dream of the Superweapon…
"An impassioned account of everything from the discovery of radioactivity to plans for a Doomsday Device (yes, there really were such plans) from an author who feels that to the generations growing up who see the Cold War only as something in history books, the true horror of nuclear weapons has been forgotten... Doomsday Men is ... important, and, depressingly, there is a need for it – people, [especially younger people than me,] ought to read it". – John Gribbin, The Literary Review
"Superb… The research is impressive, but it's his eye for revealing anecdotes and his ability to distil it all into lively prose that makes this a real pleasure to read." - Sunday Business Post
"Doomsday Men doesn't just deal with thermonuclear destruction. It's a meticulous account of weapons of mass destruction and the science and scientists behind them. Indeed, it is two books for the price of one, because it is also a cultural disquisition. Smith scours fiction for visions of death rays and lurid imaginings of Armageddon to show how writers often preceded or influenced scientists. … always readable and entertaining … Smith deserves some sort of award for value for money". – Tibor Fischer, Daily Telegraph
"...he puts the nuclear age into a new context, engagingly and even excitingly". - Financial Times
"Smith entertainingly takes on Dr. Doom and his colleagues, setting them in popular culture as scientific messiahs and madmen." – Times (London)
"A chillingly compelling history of chemical, biological and atomic superweapons...Doomsday Men analyzes dozens of examples of how culture influenced science in the devising of superweapons...it successfully shows how and why superweapons have been simultaneously admired and reviled by both scientists and the public". - Physics World
"Told largely from the viewpoint of the scientists devoted to turning the military's demands into reality, PD Smith's account is packed with striking anecdotes… this is a readable, informative work exploring why intelligent men worked on such insane projects". - Metro
"Smith's study is the gripping, untold story of the ultimate weapon of mass destruction, which first came to public attention in 1950 when the Hungarian-born scientist Leo Szilard made a dramatic announcement on radio: science was on the verge of creating a Doomsday Bomb. For the first time in history, mankind would soon have the ability to destroy all life on the planet. The shockwave from this statement reverberated across the following decade and beyond." - Times Literary Supplement
"… Doomsday Men is well worth reading. It is a powerful reminder that weapons of mass destruction are still 'out there' and new ones are being developed every day. But it is not solely about scientific knowledge; it ranges much wider than science fiction. It tells the story of disaster. One question is left hanging: will we allow our governments to repeat the mistakes of the last century?"- Independent
St. Martin's Press, 9780312373979, 576pp.
Publication Date: December 10, 2007
About the Author
P.D. Smith is an independent researcher and writer. He has taught at University College London where he is an Honorary Research Fellow in the Science and Technology Studies Department. He regularly reviews books for the "Guardian," and has written for the "Independent," the "Financial Times" and the "Times Literary Supplement" among other journals. His previous books are "Metaphor and Materiality: German Literature and the World-View of Science 1780-1955" and a biography of Einstein. He lives in Hampshire.
or
Not Currently Available for Direct Purchase