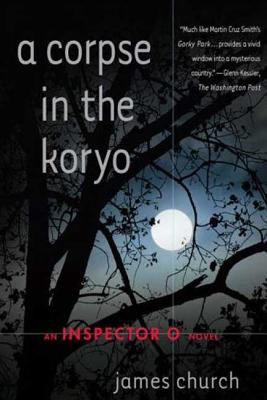 A Corpse in the Koryo
An Inspector O Novel (Inspector O Novels #1)
Paperback

* Individual store prices may vary.
Other Editions of This Title:
Compact Disc (1/1/2013)
MP3 CD (6/1/2011)
Compact Disc (6/1/2011)
Description
"On the surface, A Corpse in the Koryo is a crackling good mystery novel, filled with unusual characters involved in a complex plot that keeps you guessing to the end."
---Glenn Kessler, The Washington Post

One of Publishers Weekly Top 100 Books of 2006
One of Booklist's Best Genre Fiction of 2006
One of the Chicago Tribune's best mystery/thrillers of 2006

Sit on a quiet hillside at dawn among the wildflowers; take a picture of a car coming up a deserted highway from the south.
Simple orders for Inspector O, until he realizes they have led him far, far off his department's turf and into a maelstrom of betrayal and death. North Korea's leaders are desperate to hunt down and eliminate anyone who knows too much about a series of decade's-old kidnappings and murders---and Inspector O discovers too late he has been sent into the chaos. This is a world where nothing works as it should, where the crimes of the past haunt the present, and where even the shadows are real.
Author James Church weaves a story with beautifully spare prose and layered descriptions of a country and a people he knows by heart after decades as an intelligence officer.
". . . an outstanding crime novel. . . . a not-to-be-missed reading experience. "
---Library Journal (starred)
"Inspector O is completely believable and sympathetic . . . The writing is superb, too . . . richly layered and visually evocative."
---Booklist (starred)
". . . an impressive debut that calls to mind such mystery thrillers as Martin Cruz Smith's Gorky Park. . . ."
---Publishers Weekly (starred)
Praise For A Corpse in the Koryo: An Inspector O Novel (Inspector O Novels #1)…
"Inspector O is a complex, nuanced figure who understands that the regime he serves is corrupt, brutal and mendacious, but he remains loyal.... I think many North Korean officials today are an echo of the conflicted nationalist Inspector O." —The New York Times

"This is a fine, intelligent, and exciting story that takes us into the netherworld of contemporary North Korean communism. It evokes the gray milieu without ever overstepping its mark, allowing us to see it from the inside rather than the outside, wherein the humanity of all the characters, both good and evil, is apparent. Inspector O is a particularly wonderful creation, a true mensch attempting to hold on to his humanity in a world where humanism is under constant attack. Subtlety is the method, and the result is fantastic work that should mark the beginning of a brilliant career for James Church." —Olen Steinhauer, author of Liberation Movements
"For over fifty years Americans have tried to understand the world of North Korea. James Church does a better job of describing the isolated, impoverished, corrupt, and out- of-touch life in the North than anything I have seen. This novel is a must-read for anyone who would understand how precarious the dictatorship is." —Newt Gingrich, author of Winning Back the Future and Never Call Retreat
"A gripping story of mystery and intrigue. The laconic Inspector O follows in the traditions of Inspector Arkady Renko, operating in a world of complexity and danger we're meeting here for the first time." —Don Oberdorfer, author of Tet!
"Church's debut thriller breaks new ground. O is an original. This is an expert take on a complex, brutal, and mystifying society. Immerse yourself in it." —Marshall Browne, author of Eye of the Abyss and the Inspector Anders series
"The Corpse in the Koryo is a spellbinder. Bloody and chilling, yet subtle in its psychological detail, with an amazing understanding of North Korea." —Ezra F. Vogel, Henry Ford II Professor of the Social Sciences, Harvard University Asia Center
"The (pseudonymous) author, a veteran intelligence officer, has intimate knowledge of Asian life and politics, and it shows: He gives the North Korea setting a feeling of palpable reality, depicting the nature of daily life under a totalitarian government not just with broad sociopolitical descriptions but also with specific everyday details. . . . There is also a little of Martin Cruz Smith's early Arkady Renko novels here. The writing is superb, too, well above the level usually associated with a first novel, richly layered and visually evocative." —Booklist (starred review)
Minotaur Books, 9780312374310, 288pp.
Publication Date: September 4, 2007
About the Author
JAMES CHURCH (pseudonym) is a former Western intelligence officer with decades of experience in Asia. He has wandered through Korea for years. No matter what hat he wore, Church says, he ran across Inspector O many times.