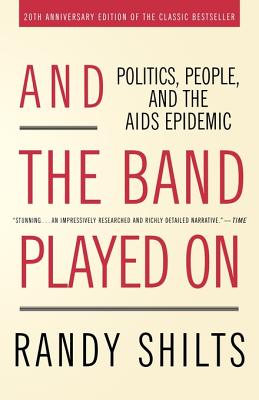 And the Band Played on: Politics, People, and the AIDS Epidemic (Paperback)
Politics, People, and the AIDS Epidemic
Griffin, 9780312374631, 630pp.
Publication Date: November 27, 2007
Description
Upon it's first publication twenty years ago, "And The Band Played" on was quickly recognized as a masterpiece of investigatve reporting. An international bestseller, a nominee for the National Book Critics Circle Award, and made into a critically acclaimed movie, Shilts' expose revealed why AIDS was allowed to spread unchecked during the early 80's while the most trusted institutions ignored or denied the threat. One of the few true modern classics, it changed and framed how AIDS was discussed in the following years. Now republished in a special 20th Anniversary edition, "And the Band Played On" remains one of the essential books of our time.
About the Author
RANDY SHILTS was one of the first journalists to recognize AIDS as an important national issue and, in the early 1980s, he began to report on AIDS full time for the San Francisco Chronicle, making him the only journalist to do so. He was also the author of The Mayor of Castro Street: The Life and Times of Harvey Milk and Conduct Unbecoming: Gay and Lesbians in the U.S. Military. Shilts died of AIDS-related complications in early 1994.
Praise For And the Band Played on: Politics, People, and the AIDS Epidemic…
"Shilts successfully weaves comprehensive investigative reporting and commercial page-turning pacing, political intrigue, and personal tragedy into a landmark book . . . Its importance cannot be overstated." -Publishers Weekly "A monumental history." -The Washington Post Book World

"The most thorough, comprehensive exploration of the AIDS epidemic to date . . . It is fascinating, frightening, and essential reading." -San Francisco Sentinel "Rivals in power and intensity, and in the brilliance of its reporting and writing, Truman Capote's In Cold Blood." --The Boston Globe "A heroic work of journalism." --The New York Times
Advertisement