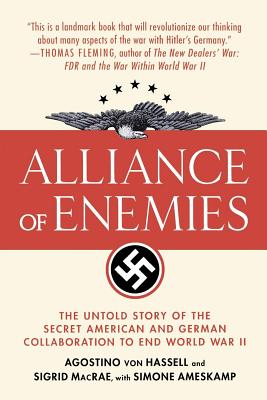 Alliance of Enemies (Paperback)
The Untold Story of the Secret American and German Collaboration to End World War II
St. Martin's Griffin, 9780312374822, 416pp.
Publication Date: April 15, 2008
Other Editions of This Title:
Hardcover (11/14/2006)
* Individual store prices may vary.
Description
Alliance of Enemies tells the thrilling history of the secret World War II relationship between Nazi Germany's espionage service, the Abwehr, and the American OSS, predecessor of the CIA.
By mining secret WWII files only recently declassified, personal interviews, diaries, and previously unpublished accounts to unearth some of history's surprises, authors von Hassell and MacRae shed new light on Franklin Roosevelt's surprising stance toward Hitler before the United States entered the war, and on the relationship of American business to the Third Reich. They offer vivid details on the German resistance's desperate efforts first to avert war and then to make common cause with enemy representatives to end it. And their work details the scope and depth of German resistance and its many plots to eliminate Hitler and why they failed.
Alliance of Enemies fills a huge void in our knowledge of the hidden, layered warfare—and the attempts for peace---of World War II. Nowhere has such a complete and provocative history of the wars behind WWII been told---until now.
About the Author
Agostino von Hassell has written about the U.S. Marine Corps, West Point, and military food. He taught classes on counterterrorism with a heavy emphasis on intelligence issues at John Jay College of Criminal Justice. He runs a consulting group in New York engaged in national security issues and trade problems. His grandfather Ulrich von Hassell was one of the participants in the July 20, 1944, plot detailed in the book Alliance of Enemies.

Sigrid MacRae graduated from Columbia University and has been an editor and translator. She writes on history and art and lives in New York. She is co-author of Alliance of Enemies: The Untold Story of the Secret American and German Collaboration to End World War II.

Simone Ameskamp is a contributor to Alliance of Enemies.
Praise For Alliance of Enemies: The Untold Story of the Secret American and German Collaboration to End World War II…
"This is a landmark book that will revolutionize our thinking about many aspects of the war with Hitler's Germany." —Thomas Fleming, author of The New Dealers' War: FDR and the War Within World War II
"How significant was the anti-Hitler movement inside Germany? How many lives lost in World War II might have been spared had the Allies embraced rather than disdained this surprisingly wide-ranging resistance? The most compelling answer to date is to be found in this definitive and eminently readable history." —Joseph E. Persico, author of Roosevelt' Secret War and Eleventh Month, Eleventh Day, Eleventh Hour
"Alliance of Enemies is a superbly told book that further unearths a new chapter in the hidden history of the OSS. It should be essential reading for students of intelligence history and the general public who see the War on Terror flash across their television screens. This book is not only a great story but it also provides crucial context on the origins of our human intelligence sources and methods--something all too relevant in today's world." —Patrick O'Donnell, author of We Were One: Shoulder to Shoulder with the Marines Who Took Fallujah