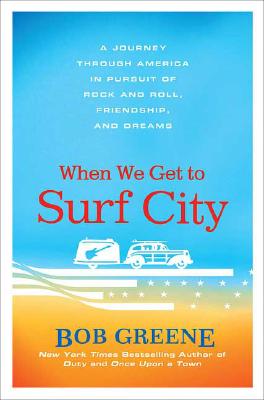 When We Get to Surf City
A Journey Through America in Pursuit of Rock and Roll, Friendship, and Dreams
Hardcover

* Individual store prices may vary.
Other Editions of This Title:
Paperback (5/12/2009)
Description
In a dazzling and exhilarating display of narrative on-the-road reporting, award-winning journalist and New York Times bestselling author Bob Greene takes readers on an unforgettable American journey of music, memories, and universal longing.
Running away to join the circus is a dream we're told to put away once we're no longer young. But, as Bob Greene writes, "just when in our lives we give up on capturing the freedom and bright mornings of our world when it was new, sometimes something happens to keep the sun high in the sky a while longer. Sometimes we find something we weren't even aware we were looking for."
For fifteen years beginning in the 1990s, Greene stepped into a universe that, out in the country every summer night, is hiding in plain sight: the touring world of the great early rock bands who gave America the car-radio and jukebox music it still loves best. Singing backup with the legendary Jan and Dean as they endlessly crisscross the nation, Greene takes us to football stadiums and minor-league ballparks, to no-name ice cream stands and midnight diners, to back roads and carnival midways as he tells a riveting story of great fame and lingering sorrow, of unexpected friendship and lasting dreams, of the things that keep us going in the face of all the things that threaten to stop us.
Striking chords of recognition and yearning, "When We Get to Surf City" glistens with cameos by the men and women with whom Greene traveled the United States on his deliriously unlikely journey, including Chuck Berry, Martha and the Vandellas, the Everly Brothers, Jerry Lee Lewis, the Beach Boys, the Monkees, the Kingsmen, James Brown, Lesley Gore, the Drifters, Little Eva, and the Coasters.
All of them--not just the people on the stage, but the people in the audiences, too--are seeking their private versions of the mythical destination Jan and Dean came up with all those years ago: Surf City as the perfect, cloudless place we all believe is out there, if only we can find it.
Hilarious and heartbreaking, moving and brilliant, this is the trip of a lifetime, a travelogue of the heart, accompanied by a thundering guitar chorus of Fender Stratocasters. It is a story destined to touch readers not just today, but for generations to come, as long as the music itself echoes.
St. Martin's Press, 9780312375294, 352pp.
Publication Date: May 13, 2008
About the Author
Award-winning journalist Bob Greene is a commentator for National Public Radio's "All Things Considered" and a "New York Times" bestselling author whose books include And "You Know You Should Be Glad: A True Story of Lifelong Friendship"; "Once Upon a Town: The Miracle of the North Platte Canteen"; "Duty: A Father, A Son, and the Man Who Won the War"; "Hang Time: Days and Dreams with Michael Jordan"; "Be True to Your School," and, with his sister, D. G. Fulford, "To Our Children's Children: Preserving Family Histories for Generations to Come."

As a magazine writer he has been lead columnist for "Life" and "Esquire"; as a broadcast journalist he has served as a contributing correspondent for "ABC News Nightline." He wrote a syndicated newspaper column based in Chicago for thirty-one years, first for the "Sun-Times" and later for the "Tribune." He is a frequent contributor to the" New York Times" op-ed page.
or
Not Currently Available for Direct Purchase