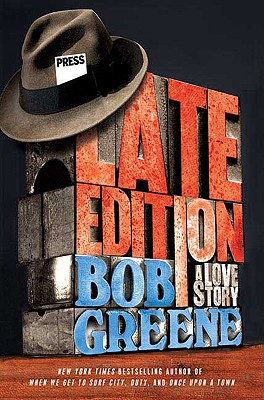 Late Edition (Hardcover)
A Love Story
St. Martin's Press, 9780312375300, 320pp.
Publication Date: July 7, 2009
* Individual store prices may vary.
Description
A loving and laughter-filled trip back to a lost American time when the newspaper business was the happiest game in town.
In a warm, affectionate true-life tale, New York Times bestselling author Bob Greene (When We Get to Surf City, Duty, Once Upon a Town) travels back to a place where—when little more than a boy—he had the grand good luck to find himself surrounded by a brotherhood and sisterhood of wayward misfits who, on the mezzanine of a Midwestern building, put out a daily newspaper that didn't even know it had already started to die.
"In some American cities," Greene writes, "famous journalists at mighty and world-renowned papers changed the course of history with their reporting."  But at the Columbus Citizen-Journal, there was a willful rejection of grandeur—these were overworked reporters and snazzy sportswriters, nerve-frazzled editors and insult-spewing photographers, who found pure joy in the fact that, each morning, they awakened to realize: "I get to go down to the paper again."
At least that is how it seemed in the eyes of the novice copyboy who saw romance in every grungy pastepot, a symphony in the song of every creaking typewriter.  With current-day developments in the American newspaper industry so grim and dreary, Late Edition is a Valentine to an era that was gleefully cocky and seemingly free from care, a wonderful story as bracing and welcome as the sound of a rolled-up paper thumping onto the front stoop just after dawn.
About the Author
Award-winning journalist Bob Greene is a CNN contributor and a New York Times bestselling author whose books include When We Get to Surf City: A Journey Through America in Pursuit of Rock and Roll, Friendship, and Dreams; And You Know You Should Be Glad: A True Story of Lifelong Friendship; Once Upon a Town: The Miracle of the North Platte Canteen; Duty: A Father, His Son, and the Man Who Won the War; Hang Time: Days and Dreams with Michael Jordan; Be True to Your School; and, with his sister, D.G. Fulford, To Our Children's Children: Preserving Family Histories for Generations to Come. As a magazine writer he has been lead columnist for Life and Esquire; as a broadcast journalist he has served as contributing correspondent for ABC News Nightline. For thirty-one years he wrote a syndicated newspaper column based in Chicago, first for the Sun-Times and later for the Tribune. His essays and reporting have been featured on National Public Radio's All Things Considered and on the Op-Ed page of the New York Times.
Praise For Late Edition: A Love Story…
"There is something absolutely magical about Bob Greene's voice." --Jeffrey Zaslow, co-author of The Last Lecture
"Bob Greene is a virtuoso of the things that bring journalism alive."--Tom Wolfe
Coverage from NPR
or
Not Currently Available for Direct Purchase