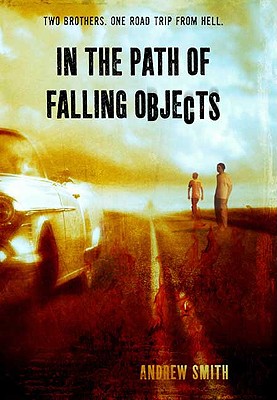 In the Path of Falling Objects
Hardcover

* Individual store prices may vary.
Description
Jonah and his younger brother, Simon, are on their own. They set out to find what's left of their family, carrying between them ten dollars, a backpack full of dirty clothes, a notebook, and a stack of letters from their brother, who is serving a tour in Vietnam. And soon into their journey, they have a ride. With a man and a beautiful girl who may be in love with Jonah. Or Simon. Or both of them.
The man is crazy. The girl is desperate. This violent ride is only just beginning. And it will leave the brothers taking cover from hard truths about loyalty, love, and survival that crash into their lives.
One more thing: The brothers have a gun. They're going to need it.
Praise For In the Path of Falling Objects…
Praise for In the Path of Falling Objects:
"Falling Objects is a mystical, lyrical, sometimes violent, and ultimately hopeful story of what it means to be a brother. …For teens looking for something to sink their teeth into, Smith offers a challenging read. Powerful imagery and symbolism are threaded throughout the narrative along with Bible references, a map that Jonah is drawing, a meteorite that Simon takes along as a talisman, and references to gravity and its relentless pull. The intensity will suit serious readers who don't mind a little blood and gore."— School Library Journal
"...16-year-old Jonah and his brother, Simon, two years younger, embark on a brutal but mesmerizing road trip that steers an unswerving course toward tragedy. …[O]lder teens will be riveted."—Kirkus Reviews
"Smith's Vietnam-era road trip tells the tense, violent and cathartic story of teenage brothers Jonah and Simon, 16 and 14, on the run after their mother abandons them in their New Mexico home."—Publishers Weekly
"A relentless, bleak thriller that nails the claustrophobic sense of being totally out of control, and moving fast."—Booklist
"The setting is vivid, the plot (including a thrilling showdown) is suspenseful, and the characters are complex and intriguing, particularly in their interactions with one another. It's a wilderness survival adventure wherein the characters have to survive each other as much as the harsh, unforgiving landscape."—Horn Book
Praise for Andrew Smith's Ghost Medicine:

2008 Best Books for Young Adults (BBYA) Nominee

"Smith's first novel, a deceptively simple coming-of-age story, defies expectations via its sublime imagery and its elliptical narrative structure. … While the summer climaxes with jarring violence, the possibility of a true departure never materializes: the outside world is held at bay by the inscrutable questions unveiled in the book's conclusion."—Publishers Weekly, starred review

"… Troy wishes to be lost, but his greatest hope is to be found, and Ghost Medicine beautifully captures that paradox in this timeless and tender coming-of-age story. Not only will it inspire readers to prod the boundaries of their own courage, but it will also remind them that life and love are precious and fleeting."—School Library Journal
Feiwel & Friends, 9780312375584, 336pp.
Publication Date: September 29, 2009
About the Author
Andrew Smith is the author of "Ghost Medicine" and" The Marbury Lens," both of which were named American Library Association Best Books for Young Adults. In addition to writing, he teaches high school advanced placement classes and coaches rugby. He lives in Southern California with his family, in a rural location in the mountains.
or
Not Currently Available for Direct Purchase