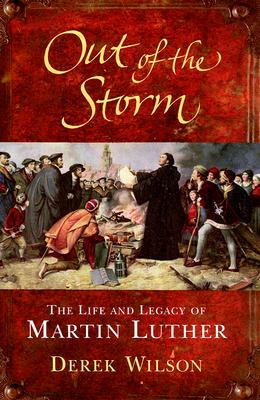 Out of the Storm: The Life and Legacy of Martin Luther (Hardcover)
The Life and Legacy of Martin Luther
St. Martin's Press, 9780312375881, 416pp.
Publication Date: January 8, 2008
* Individual store prices may vary.
or
Not Currently Available for Direct Purchase
Description
"Scores highly in thoroughness, clarity, and human sympathy. If you want a model of how to defy uncomprehending power . . . or a model of how to laugh at the Devil, Wilson has provided a reliable guide as to how Luther did it."
---Sunday Telegraph (UK)
Martin Luther changed Europe and, through Europe, the world. It was he who originally exposed the myth of a unifed Latin Christendom, in fact only held together by crusades, heresy hunts, Inquisition, and priestly magic. Though not the first radical thinker to challenge papal pretensions and the doctrines they were founded on, by his defiance Luther created the biggest cause célèbre of the age. But this renegade monk did not just split Europe into rival Protestant and Catholic camps. By urging Christians to read and interpret the Bible for themselves, he gave a religious boost to that emancipation of the individual we associate with the Renaissance. By putting men and women in charge of their own destiny he made a cultural impact that is incalculable.
The first major biography in English for many years, by leading historian Derek Wilson, Out of the Storm responds to recent Reformation scholarship to assess Luther's impact on his own and later ages. This warts-and-all study gives a vivid picture of a complex and driven man---courageous, stubborn, rumbustious, vulgar, erudite, self-opinionated, but a man of tireless energy and, above all, total conviction. For his achievements we can admire him. In his failings we can identify with him. Luther remains perpetually fascinating.
About the Author
Derek Wilson, a leading biographer and novelist, came to prominence thirty years ago, after graduating from Cambridge, with "A ""Tudor"" Tapestry: Men, Women and Society in Reformation ""England." This was followed by several critically acclaimed and bestselling books such as "Rothschild: A Story of Wealth and Power; In the Lion's Court: Power, Ambition and Sudden Death in the Reign of Henry VIII; "and "All the King's Women: Love, Sex and Politics in the Life of Charles II." He has also written and presented numerous radio and television programs. Visit his Web site at www.derekwilson.com.
Praise For Out of the Storm: The Life and Legacy of Martin Luther…
Praise for Derek Wilson

"Fast-paced biography . . . Wilson deftly chronicles Charlemagne's military exploits, political intrigues, and religious devotion."
---Publishers Weekly on Charlemagne

"I cannot praise too highly Derek Wilson's prose style, which is both masterful and lively. He writes with great conviction and a breathtaking attention to the kind of personal detail that makes his books such compelling reading."
---Alison Weir on In the Lion's Court

"The ambition of Wilson's plan lies in the fact that he does not offer us six separate studies . . . but presents one complex, rich narrative. . . . This plan is carried out with attractive energy and zest. . . . He has written a useful and stimulating book about [Britain's] most important dynasty."
---Antonia Fraser, Sunday Times (UK) on In the Lion's Court

"A masterly study."
---Daily Telegraph (UK) on Rothschild

"An intriguing and compelling story . . . It does justice to the great genius of Holbein and suggests a new way of looking at him."
---Times Literary Supplement (UK) on Hans Holbein

"Wilson's account . . . is masterly. He has a deep understanding of . . . characters, reaching out across the centuries to touch them as if they were old friends."
---Sunday Times (UK) on Uncrowned Kings of England

"Marvelous material, Fluently and expertly retold."
---Daily Telegraph (UK) on The Circumnavigators
Advertisement