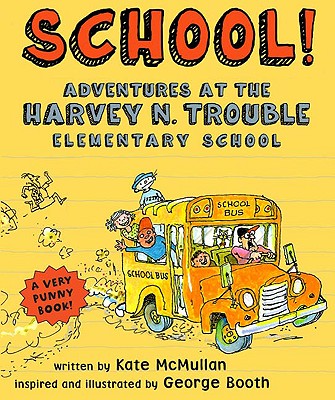 School!: Adventures at the Harvey N. Trouble Elementary School (Hardcover)
Adventures at the Harvey N. Trouble Elementary School
Feiwel & Friends, 9780312375928, 144pp.
Publication Date: July 20, 2010
* Individual store prices may vary.
or
Not Currently Available for Direct Purchase
Description
Welcome to the Harvey N. Trouble Elementary School, where you will experience a week in the life of an exceptional group of characters. There's the principal, Miss Ingashoe, and her secretary, Ms. Cecelia Seeyalater; teachers Mr. Hugh da Mann and Mrs. Doremi Fasollatido; and students Abby Birthday, Sid Down, Viola Fuss, Dewey Haveto, and many more
This heavily illustrated, full-color, fabulously designed young chapter book is a must-have, back-to-school title that chronicles the very simple story of Ron Faster as he learns some important lessons about life during his adventures on a Monday, Tuesday, Wednesday, Thursday, and Friday in a most unusual school.
"School " is a 2011 Bank Street - Best Children's Book of the Year.
About the Author
George Booth has been drawing cartoons for publications like "The New Yorker" and "The New York Times" for more than thirty years. He also illustrates children's books like this one. He lives on Long Island with his wife, Dione, who is not missing a shoe or an orange wig. He has said that no matter how old he gets, he never wants to stop trying new things--even if one of those things is a beanie weenie on a bun.Kate McMullan has written more than 100 books for children. Yes, that's 100! These books include "I Stink!" and "I'm Dirty!" She has said that when she writes, she thinks back to her grade-school days "the yucky lunches" and "the torture of gym class for the non-athletic." But she can't remember a time when her bus got stuck in a ditch or if she ever had a cat named Moose. She does remember that she always loved to read, and as soon as she could, she read her way through the children's shelves at her local library. When she grew up, she taught fourth grade in inner-city Los Angeles and on an American Air Force Base in Germany. Reading to her students, she started to wonder if she could write for kids. More than 100 books later, it appears she can! McMullan lives in Sag Harbor with her husband and collaborator, the illustrator Jim McMullan."
Praise For School!: Adventures at the Harvey N. Trouble Elementary School…
"Offbeat humor transfers into Harvey N. Trouble Elementary School, where Mr. Ivan Stuckinaditch drives the bus (or tries to) and Mr. Norman Don't-know is a clueless substitute teacher for dubious students like little Izzy Normal. There's nothing normal about [George] Booth's sketches and Kate McMullan's text, which will delight and challenge kids who love puns and wordplay." –USA Today

"School! almost reels in a tornado of silly wordplay and fast-paced events, with students like Dewey Haveto and little Izzy Normal in a chorus of confusion. Booth's comical portraits look like cameos of his beloved New Yorker cartoons—the janitors Iquit and Quitoo, tossing their brooms aside, could have just stepped off one of those crowded country porches." –The New York Times Book Review

"A playful, silly read that will draw young readers with its lighthearted humor." –Bulletin of the Center for Children's Books

"If silly homonyms please you, you'll love a week with Chuckie Upkins, Gladys Friday, Iona Tricycle and more." –The Chicago Tribune

"Booth's great cartoon illustrations add whimsy and pure fun to every page, a quality that, when paired with McMullan's simple, quirky story, may well draw in reluctant readers. This is a good chapter book for children who enjoy the visual stimulation of well-done graphics." –School Library Journal

"If 30 Rock were set in an elementary school, one suspects it would resemble this loopy, breakneck comedy." –Publishers Weekly
Advertisement