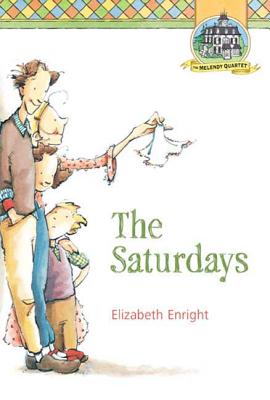 The Saturdays (Melendy Quartet #1) (Paperback)
Square Fish, 9780312375980, 177pp.
Publication Date: January 22, 2008
* Individual store prices may vary.
Description
Meet the Melendys The four Melendy children live with their father and Cuffy, their beloved housekeeper, in a worn but comfortable brownstone in New York City. There's thirteen-year-old Mona, who has decided to become an actress; twelve-year-old mischievous Rush; ten-and-a-half-year-old Randy, who loves to dance and paint; and thoughtful Oliver, who is just six.
Tired of wasting Saturdays doing nothing but wishing for larger allowances, the four Melendys jump at Randy's idea to start the Independent Saturday Afternoon Adventure Club (I.S.A.A.C.). If they pool their resources and take turns spending the whole amount, they can each have at least one memorable Saturday afternoon of their own. Before long, I.S.A.A.C. is in operation and every Saturday is definitely one to remember.
Written more than half a century ago, The Saturdays unfolds with all the ripe details of a specific place and period but remains, just the same, a winning, timeless tale. The Saturdays is the first installment of Enright's Melendy Quartet, an engaging and warm series about the close-knit Melendy family and their surprising adventures.
About the Author
Elizabeth Enright (1909-1968) was born in Oak Park, Illinois, but spent most of her life in or near New York City. Her mother was a magazine illustrator, while her father was a political cartoonist. Illustration was Enright's original career choice and she studied art in Greenwich, Connecticut; Paris, France; and the Parson's School of Design in New York City. After creating her first book in 1937, she developed a taste, and quickly demonstrated a talent, for writing. Throughout her life, she won many awards, including the 1939 John Newbery Medal for Thimble Summer and a 1958 Newbery Honor for Gone-Away Lake. Among her other beloved titles are her books about the Melendy family, starting with The Saturdays, published in 1941. Enright also wrote short stories for adults, and her work was published in The New Yorker, The Ladies Home Journal, Cosmopolitan, The Yale Review, Harper's, and The Saturday Evening Post. She taught creative writing at Barnard College. Translated into many languages throughout the world, Elizabeth Enright's stories are for both the young and the young at heart.
Praise For The Saturdays (Melendy Quartet #1)…
"Enright has a quick eye for the unexpected, the amusing and the beautiful in what might be just ordinary experiences." -- The New York Times "The Melendys are the quintessential storybook family...[their] ardent approach to living is eternally relevant." -- Publishers Weekly