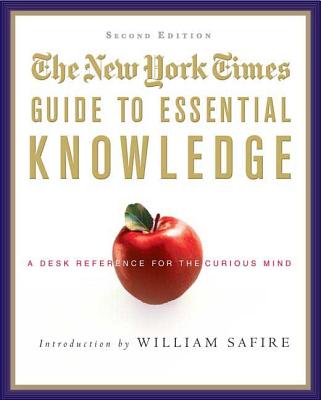 The New York Times Guide to Essential Knowledge, Second Edition (Hardcover)
A Desk Reference for the Curious Mind
St. Martin's Press, 9780312376598, 1328pp.
Publication Date: October 30, 2007
Other Editions of This Title:
Paperback (2/21/2004)
* Individual store prices may vary.
Description
A Complete Revision and Thorough Updating of the Ultimate Reference from the Newspaper of Record
Whether you are researching the history of Western art, investigating an obscure medical test, following current environmental trends, studying Shakespeare, brushing up on your crossword and Sudoku skills, or simply looking for a deeper understanding of the world, this book is for you. An indispensable resource for every home, office, dorm room, and library, this new edition of The New York Times Guide to Essential Knowledge offers in-depth explorations of art, astronomy, biology, business, economics, the environment, film, geography, history, the Internet, literature, mathematics, music, mythology, philosophy, photography, sports, theater, film, and many other subjects.
This one volume is designed to offer more information than any other book on the most important subjects, as well as provide easy-to-access data critical to everyday life. It is the only universal reference book to include authoritative and engaging essays from New York Times experts in almost every field of endeavor.
About the Author
The New York Times is a daily newspaper published in New York City and distributed internationally. Founded in 1851, the newspaper has won 112 Pulitzer Prizes, more than any other news organization. Its website receives 30 million unique visitors per month.
Praise For The New York Times Guide to Essential Knowledge, Second Edition: A Desk Reference for the Curious Mind…
"This widely expanded update to the original 2004 edition defines nearly every facet of contemporary life--from arts, grammar, mythology and culture to science, economics, and geopolitical issues. Though bearing an authority and informational wealth that might rival the voluminous Oxford Dictionary of English, this surprisingly manageable volume is organized alphabetically by subject and contains thousands of highly accessible essays, tables, and lists, all composed by New York Times field experts. It also includes an introduction by longtime "On Language" columnist and Pultizer Prize winner William Safire. An essential background referenec for almost every subject: highly recommended for all public libraries." —Library Journal
"I wish I'd had this book 25 years ago. It is certain to become an indispensable tool for fact fanatics." —Bill Bryson, author of A Short History of Nearly Everything
"In short, this is the largest, most up-to-date and affordable one volume desk reference available today and is an absolute must for every home, dorm room and library." —Tucson Citizen
or
Not Currently Available for Direct Purchase