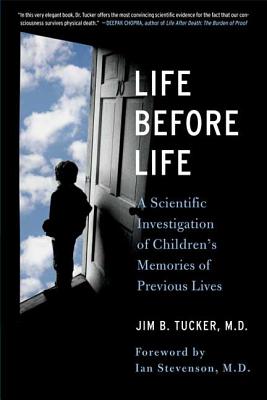 Life Before Life
Children's Memories of Previous Lives
Paperback

* Individual store prices may vary.
Description
This popular examination of research into children's reports of past-life memories describes a collection of 2,500 cases at the University of Virginia that investigators have carefully studied since Dr. Ian Stevenson began the work more than forty years ago. The children usually begin talking about a past life at the age of two or three and may talk about a previous family or the way they died in a previous life. Their statements have often been found to be accurate for one particular deceased individual, and some children have recognized members of the previous family. A number have also had birthmarks or defects that matched wounds on the body of the deceased person.

Life Before Life presents the cases in a straightforward way and explores the possibility that consciousness may continue after the brain dies. It is a provocative and fascinating book that can challenge and ultimately change readers' understandings about life and death.
Praise For Life Before Life: Children's Memories of Previous Lives…
"In this very elegant book, Dr. Tucker offers the most convincing scientific evidence for the fact that our consciousness survives physical death. And indeed, takes quantum leaps of creativity in the form of reincarnation. The model that Dr. Tucker presents opens a new vision of who we are, limitless beings that fill up all of space and time." —Deepak Chopra, author of Life After Death: The Burden of Proof

"[A][ solid case for reincarnation…. Tucker introduces powerful grounds for credulous speculation." —Booklist

"Jim Tucker gives us a clear, concise and eminently rational insight into a 40 year investigation of what is unquestionably the best evidence for the existence of reincarnation. We are lucky to have in him a worthy successor to Ian Stevenson." —TOM SHRODER, author of Old Souls: Compelling Evidence From Children Who Remember Past Lives

"Anyone with an open mind, on reading Dr. Jim B. Tucker's Life Before Life, will realize that our conventional concepts of life and death are ripe for revision. The possibilities raised by this book for human destiny are as hopeful as the current view is grim. Life Before Life is extraordinarily important." —Larry Dossey, M.D., author of The Extraordinary Healing Power of Ordinary Things, Reinventing Medicine, and Healing Words

"With his training as a pediatric psychiatrist, and the mind of an inquiring scientist, Dr. Jim Tucker takes a fresh look at one of life's most intriguing questions: 'Does consciousness survive death?' Through the hundreds of case studies of his predecessor, Dr. Ian Stevenson, and his own cases, Dr. Tucker adds new insight to this amazing research, and draws us closer to understanding this perennial mystery." —CAROL BOWMAN, author of Children's Past Lives and Return From Heaven

"Life Before Life adds to the increasingly impressive science of consciousness and the continuity of mind/memory…this book is the tip of an important iceberg that will continue to expand our knowledge of the spiritual reality of Life." —C. NORMAN SHEALY, M.D., Ph.D., President, Holos University Graduate Seminary; Founding President, American Holistic Medical Association; author of Youthful Aging—Secret of the Fountain

"Jim B. Tucker's fine presentation of Ian Stevenson's decades of rigorous scientific research into evidence of children's apparent past-life recollections expresses the true spirit of scientific skepticism, rather than the knee-jerk materialism that all too often waves that proud banner." —B. ALAN WALLACE, President of the Santa Barbara Institute for Consciousness Studies
St. Martin's Griffin, 9780312376741, 272pp.
Publication Date: April 1, 2008
About the Author
Jim B. Tucker, M.D. is a child psychiatrist at the University of Virginia, where he directs research into children's reports of past-life memories at the Division of Personality Studies and serves as Medical Director of the Child & Family Psychiatry Clinic. He is the author of Life Before Life and the New York Times Best Seller Return to Life.
or
Not Currently Available for Direct Purchase