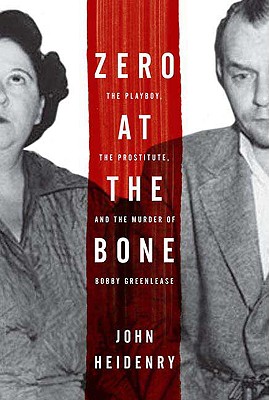 Zero at the Bone: The Playboy, the Prostitute, and the Murder of Bobby Greenlease (Hardcover)
The Playboy, the Prostitute, and the Murder of Bobby Greenlease
St. Martin's Press, 9780312376796, 240pp.
Publication Date: July 21, 2009
* Individual store prices may vary.
or
Not Currently Available for Direct Purchase
Description
In 1953, six-year-old Bobby Greenlease, the son of a wealthy Kansas City automobile dealer and his wife, was kidnapped from his Roman Catholic elementary school by a woman named Bonnie Heady, a well-scrubbed prostitute who was posing as one of his distant aunts. Her accomplice, Carl Austin Hall, a former playboy who had run through his inheritance and was just out of the Missouri State Penitentiary, was waiting in the getaway car with a gun, a length of rope and a plastic tarp. The two grifters thought they had a plan that would put them on the road to Easy Street; but, actually, they were on a fast-track to the gas chamber. Shortly after they snatched the little boy, the two demanded a ransom of $600,000.00 from the Greenlease family and it was paid; but, Bobby was already dead, shot in the head by Hall and buried in a flower garden behind the couple's house, exactly where his body was found by police shortly thereafter. The Greenlease ransom was the highest ransom ever paid in the US to that date and the case held the US transfixed in the same way the kidnapping of the Lindbergh baby had done decades earlier. In a bone-chilling account of kidnapping, murder and the dogged pursuit of a child's killers, John Heidenry crafts a haunting narrative that involves mob boss Joe Costello, a cast of unsavory grifters, hardboiled detectives and a room at the legendary, but now razed, Coral Court Motel on Route 66. Heady and Hall were apprehended quickly, convicted and executed in a rare double execution in the State of Missouri's gas chamber on a cold December night not long before Christmas. By that time, little Bobby Greenlease was stone cold in his grave and a fickle America had turned back to its Post-War boom. However, one question has never been solved: as Hall was being pursued around Kansas City and St. Louis, half of the ransom was lost and never recovered. Did it end up with the mob via Joe Costello? To this day, no one knows and dead mob bosses tell no tales. In a book that brings to mind films like "Chinatown" and "Double Indemnity", John Heidenry has written a compelling work that blends true crime and American history to take a close look at one of the United States' most notorious murders.
About the Author
John Heidenry is a contributing editor to The Week, the founding editor of St. Louis Magazine, and has written several books including "The Gashouse Gang." He lives in Hoboken, NJ.
Praise For Zero at the Bone: The Playboy, the Prostitute, and the Murder of Bobby Greenlease…
"Heidenry delivers a lean, mean account of an infamous 1953 kidnapping and murder. . . .  Harsh, chilling, lurid, and gripping."--Kirkus Reviews
"This true crime caper by Heidenry (
The Gashouse Gang
) of a 1953 Kansas child kidnapping gone bad carries a solid punch. The young victim, Bobby Greenlease, the six-year-old heir of wealthy businessman Robert Greenlease, never had a chance when Carl Austin Hall and Bonnie Heady—both formerly wealthy ne'er-do-wells making one last stab at making their fortune—botched the snatch and demanded a ransom of $600,000, the largest ever in U.S. history up to that time. Heady took Bobby from his Catholic school, claiming to be his aunt and that his mother had had a heart attack. Bobby inexplicably went quietly with the strange woman and met his violent end. Heidenry, a contributing editor to the Week, aptly describes Hall, the down-on-his-luck playboy; Heady, the former horsewoman turned prostitute; Robert Greenlease, the woeful car magnate; and a sordid cast of supporting players, including coldhearted mobster Joe Costello and the two corrupt cops who stole much of the ransom. Heidenry neatly tells this harrowing tale and its impact on all involved."--
Publishers Weekly
Advertisement