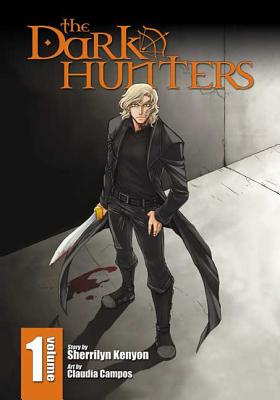 The Dark-Hunters, Volume 1 (Paperback)
Griffin, 9780312376871, 208pp.
Publication Date: July 7, 2009
Description
In the war against vampires, mankind has only one hope: The Dark-Hunters. Ancient warriors who died of brutal betrayal, the Dark-Hunters have sworn themselves into the service of the goddess Artemis to protect us.
It's a pact with pretty good perks. Immortality, power, psychic abilities, wealth and a cool wardrobe. But it comes with a few drawbacks: fatal sun poisoning and a new, irreparable dental problem. But aside from the fangs and nocturnal lifestyle, it's not so bad.
Until Kyrian meets the most frightening thing imaginable. An accountant who's being hunted by one of the most lethal vampires out there. If Amanda Devereaux goes down, so does he and no offense, he doesn't want to die (hence the whole immortality thing). And he doesn't want humanity dead either which is a good thing for us since he and Amanda are all that stands between us and oblivion. Let's hope they win.
From the wild imagination of Sherrilyn Kenyon comes the humorous and suspenseful manga debut of the #1 internationally bestselling Dark-Hunter series. The world of manga will never be the same again.
About the Author
In the past two years, New York Times bestselling author Sherrilyn Kenyon has claimed the #1 spot twelve times, and since 2004, she has placed more than 50 novels on the New York Times list. This extraordinary bestseller continues to top every genre she writes. With more than 23 million copies of her books in print in over 30 countries, her current series include: The Dark-Hunters, The League, Lords of Avalon, BAD Agency, Chronicles of Nick and Nevermore. A preeminent voice in paranormal fiction, Kenyon helped pioneer and define the current paranormal trend that has captivated the world. She lives with her husband, three sons, a menagerie of animals and a collection of swords.
Praise For The Dark-Hunters, Volume 1…
"Kenyon's writing is brisk, ironic, sexy, and relentlessly imaginative." --The Boston Globe
"A delicious balance of suspense and sensuality."--Publishers Weekly
"As the mastermind behind an internationally popular, massively detailed fictional universe and overarching saga filling a dozen novels, Kenyon has written another fresh tale full to the brim with surprises." --BookList
Advertisement