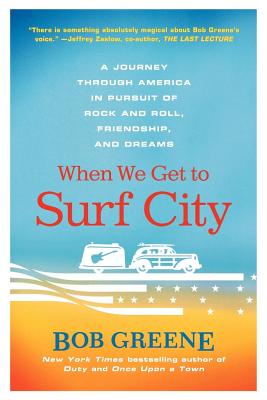 When We Get to Surf City
A Journey Through America in Pursuit of Rock and Roll, Friendship, and Dreams
Paperback

* Individual store prices may vary.
Other Editions of This Title:
Hardcover (5/13/2008)
Description
Includes a bonus excerpt from Bob Greene's forthcoming Late Edition: A Love Story

"There is something absolutely magical about Bob Greene's voice."—Jeffrey Zaslow, coauthor, The Last Lecture

Running away to join the circus is a dream we're told to put away once we're no longer young. But for the last fifteen summers, Bob Greene has stepped into a universe that is hiding in plain sight: the touring world of the great early rock bands who gave America the car-radio-and-jukebox music it still loves best.

Singing backup with the legendary Jan and Dean as they endlessly crisscross the nation, in the company of Chuck Berry, the Everly Brothers, Jerry Lee Lewis, Martha and the Vandellas, and the Beach Boys, Greene takes us to football stadiums and minor-league ballparks, to no-name ice cream stands and midnight diners. Along the way he tells a riveting story of great fame and lingering sorrow, of unexpected friendship and lasting dreams, of the things that keep us going in the face of all the things that threaten to stop us.

Hilarious and heartbreaking, moving and brilliant, this is the trip of a lifetime, a travelogue of the heart, accompanied by a thundering guitar chorus of Fender Stratocasters.
Praise For When We Get to Surf City: A Journey Through America in Pursuit of Rock and Roll, Friendship, and Dreams…
"There is something absolutely magical about Bob Greene's voice. No, not his voice onstage, singing backup with Jan and Dean. But his voice in this book, well, it just soars. It's a voice that is all at once lyrical and heartfelt and full of great humor. After a thousand summer choruses, Bob Greene's voice has never been better." —Jeffrey Zaslow, co-author, The Last Lecture

"I love this book. . .It takes me back to an age that, for all who lived through it, never ends: a time of sun and surf and fun before the cynicism and war and rebellion. . .Reading it, I am there again without a care and with friends I have never met, but whose music is as much a part of me as my closest relative. . .Wonderful, wonderful." —Cal Thomas, syndicated columnist

"Greene has distinguished himself as America's poet laureate of summer." —Baton Rouge Advocate

"Joyous, loving, funny and touching, like a salty breeze blowing memories across the page. And it puts that music-- that wonderful music-- right back in your head where it belongs." —Huntington Beach (California) Independent

"The perfect summer vacation book. . . .It takes you back to the feeling of those hot summer nights when you were younger, and every day was about fast cars, fast food, your favorite friends and favorite records." —Bob Sirott, One More Thing, NBC-TV

"A dream come true." —New York Post

"Four stars. . .revealing. . .hilarious. . .about the still-redemptive powers of rock and roll at any age, and, ultimately, of friendship." —Mojo magazine, Great Britain

"Bob Greene rode this perfect wave. . .back to cloudless blue skies and 'two girls for every boy.' Back to burgers and shakes at the Dairy Queen and the thrill of the perfect song on the radio. Like The New Yorker's John McPhee, Greene has a writer's gift of breathing unexpected life into the seemingly mundane. . .real affection and poignancy." —The Christian Science Monitor

"Wonderful. . .masterful." —Hutchinson (Minnesota) Leader

"I didn't want this book to end. . .The ribbon of highway with its pleasures and perils is worth it all when you roll up to the next stage and unload your gear. The band, the audience and the music will soon become one again, and is there anything better than that?. . .Absolutely essential reading." —Bob Stroud, WDRV radio, Chicago

"Bob Greene is speaking your language. . . .The transforming power of music, how it can bring you right back to the first time you heard it, how it can make you feel sunny on a gray day, how it can be enough to make your life work. . .It gets right into your heart and soul." —Bob Lefsetz, The Lefsetz Letter

"For Bob Greene, touring the country and singing backup in a rock group was the equivalent of running away and joining the circus. Wasn't that everyone's dream at some time? . .This guy is amazingly versatile. He can write about anything and somehow make it relate to almost any reader." —North Platte (Nebraska) Telegraph

"A home run." —David Galassie, Associated Content

"One of the best books on music of the year. . .A sentimental journey through the heart of America. . . the true story of a rock and roll band that has been to the top of the charts and seen it all, only to have it quickly and brutally fall apart." —Crawdaddy magazine

"It's all golden. . .It's about being on tour with a band that brings summer everywhere they go, but more than that, it's a story of love and loyalty, and the freedom of the open road." —Ken Shane, Popdose
St. Martin's Griffin, 9780312376918, 368pp.
Publication Date: May 12, 2009
About the Author
Award-winning journalist Bob Greene is a CNN contributor and a New York Times bestselling author whose books include Duty: A Father, His Son, and the Man Who Won the War and Once Upon a Town: The Miracle of the North Platte Canteen.