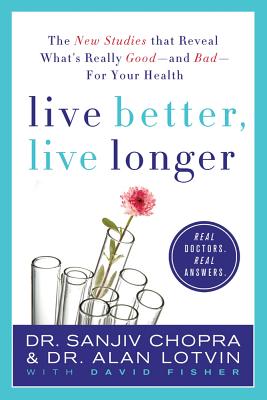 Live Better, Live Longer: The New Studies That Reveal What's Really Good--And Bad--For Your Health (Paperback)
The New Studies That Reveal What's Really Good--And Bad--For Your Health
Griffin, 9780312376932, 456pp.
Publication Date: March 13, 2012
Description
Every day, you hear about new medical studies touted as the "next big thing that will save your life." But how can you tell which claims are real and which are bogus? Live Better, Live Longer gives you the answers.
Live Better, Live Longer explains the latest research to provide you with the most accurate medical information. You will learn about the right diet, the best cancer-screening methods, the incredible power of coffee to prevent disease, the real value of vitamins and supplements, the truth about the dangers of cell phones, the facts behind vaccinations, and the scientific information you and your family need to lead a happier and healthier life.
About the Author
Dr. Sanjiv Chopra is professor of medicine and faculty dean for continuing medical education at Harvard Medical School. He is a senior consultant in hepatology at the Beth Israel Deaconess Medical Center in Boston. He is the editor-in-chief of UpToDate in Gastroenterology and Hepatology, has more than one hundred publications and four specialist books to his credit, and is the author of Leadership by Example. With his brother, Deepak Chopra, he is author of Brotherhood: Dharma, Destiny, and the American Dream. He lives in Weston, Massachusetts. Dr. Alan Lotvin is a cardiologist by training and practice. He lives in Hopkinton, Massachusetts.
Praise For Live Better, Live Longer: The New Studies That Reveal What's Really Good--And Bad--For Your Health…
"With wisdom and wit, Sanjiv Chopra and Alan Lotvin show how to navigate the vast sea of health information, from vaccines to vitamins, cold remedies to colonoscopies, marijuana to mammograms. The reader will benefit from this prescription of a healthy dose of skepticism and common sense."
—Jerome Groopman, New York Times bestselling author of How Doctors Think
"Helpful, accessible information about a broad variety of health concerns."--Kirkus Reviews
"A tremendously useful book."
—Nicholas H. Fiebach, M.D., professor of clinical medicine, Columbia University
Advertisement