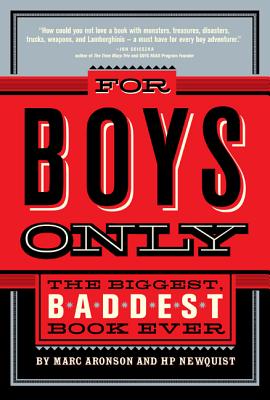 For Boys Only (Hardcover)
The Biggest, Baddest Book Ever
Feiwel & Friends, 9780312377069, 160pp.
Publication Date: November 27, 2007
* Individual store prices may vary.
Description
Hey, Boys!
Want to have some fun? Maybe learn how to land an airplane in an emergency? Or fight off an alligator? Escape from being tied up? How about taking a ride on one of America's scariest roller coasters? Learn how to make fake blood or turn a real bone into a pretzel. What if you could find out how to identify some of the world's most horrifying creatures? Or learn the secret of making a blockbuster movie? What about guessing the top 11 greatest moments in sports history? Find buried treasure? And once you've found the treasure, find out just how much it would cost you to buy one of the world's most expensive cars.
You'll find all this—and much more—over 250 pages of the biggest, baddest, and best information on just about everything. Plus we've placed a special, mind-bending, solve-the-code puzzle on random pages throughout the book that will lead you to a really cool solution! Now, that's fun!
About the Author
Marc Aronson is an author, editor, publisher, speaker, historian, and book producer. Marc's mission is to inspire young people to ask questions, to look around, behind, and inside of the stories the world tells us. He writes a monthly column for School Library Journal on nonfiction for younger readers, and frequently speaks about boys and reading. Marc was awarded the Robert F. Sibert Award for the best in children's nonfiction for Sir Walter Ralegh and the Quest for El Dorado, and his books have been selected as a New York Times Notable Book and a School Library Journal best book. In 2006, he was given the ALAN Award by NCTE for service to teenagers, and was named the local spokesman for the History Channel's Save Our History program. He lives with his wife and two sons in Maplewood, New Jersey.

HP Newquist has authored more than a dozen books for both children and adults, including the critically acclaimed THE GREAT BRAIN BOOK (Scholastic, 2005). To prepare for his book For Boys Only, Mr. Newquist went scuba diving with sharks in Australia, climbed the Great Pyramid in Egypt, drove some really fast cars, learned a few magic tricks, and read more books than he can count.
Praise For For Boys Only: The Biggest, Baddest Book Ever…
"How could you not love a book with monsters, treasures, disasters, tricks, weapons, and Lamborghinis--a must have book for every boy adventurer." —Jon Scieszka, author of The Stinky Cheese Man, Math Curse, Time Warp Trio, and most importantly the creator of a program called, Guys Read
"Fun . . . if there's one thing that boys like more than having stuff, it's finding out about stuff." —Mike Lupica, author of Travel Team, Heat, and Summer Ball
"Filled with facts, puzzles, stats, stories and more, For Boys Only: The Biggest, Baddest Book Ever by Marc Aronson and HP Newquist offers up information on favorite subjects . . . Printed with black and red text and illustrated throughout, this graphically fresh and topically diverse collection should capture the imagination of its target audience." —Publishers Weekly
"Kids who read For Boys Only won't realize it, but this treasure trove of information is a tribute to the joys of research. Like The Dangerous Book for Boys, this contains several how-to articles; unlike that best seller, it doesn't limit itself so narrowly in scope. That certainly helps it earn the 'baddest' of its subtitle . . . Designed with cool icons and laid out with an aim to be friendly for Internet-savvy eyes, For Boys Only is the book to get the 'XY-chromosomer' on your gift list. Get one for yourself, too, because you'll learn a lot from it, as well." —Oklahoma Gazette
"In a tone both light and humorous, Newquist and Aronson aim to please by assembling a tantalizing assortment of codes, puzzles, best lists, brief history and science facts, instructions for fake blood and the ultimate Frisbee, and even advice about facing up to a shark ("try not to bleed too much") . . . this offers lots of good fun, and with so much chick lit available, it's nice to see special attention being paid to boys. In fact, there's nothing here to keep girls away but the title." —Booklist
"Marc Aronson and HP Newquist's For Boys Only: The Biggest, Baddest Book Ever, may be an even cooler treasure trove of knowledge--both useful and arcane--than the runaway hit The Dangerous Book for Boys. It downplays the studied nostalgia for a more Internet-savvy, here-and-now approach. With a cool, icon-driven design, its scattered, uncategorized contents touch on everything from great moments in video games to how to best survive a shark attack." —Bookgasm (blog)
"This book was awesome and filled with amazing facts. I mean who knew that there was a wave of molasses 10 feet high! This book has neat info for everyone!" —Walker Downs, 12 years old