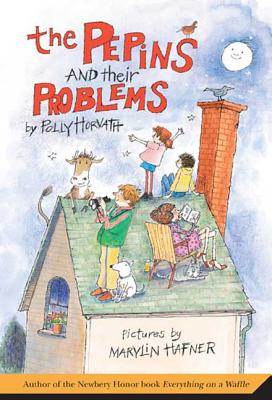 The Pepins and Their Problems (Paperback)
Square Fish, 9780312377519, 208pp.
Publication Date: March 4, 2008
Other Editions of This Title:
Hardcover (3/4/2008)
Audio Cassette (10/12/2004)
* Individual store prices may vary.
Description
Whether it's waking up to find toads in their shoes, becoming trapped on the roof, or searching for cheese when their cow makes only lemonade, the Pepin family always seem to get into the most bizarre scrapes. Lucky for them, they have an author with large psychic antennae and great problem-solving readers who can join the Pepins on their hilarious adventures. And they need all the help they can get!
About the Author
Polly Horvath has written many books for children and young adults, among them Everything on a Waffle, The Canning Season, and One Year in Coal Harbour. She has won numerous awards including a National Book Award, Newbery Honor, Toronto Dominion Award, International White Raven, and Canadian Library Association's Young Adult Book of the Year. She has also been short-listed for Germany's most prestigious literature award, the Deutscher Jugendliteraturpreis, as well as the Writer's Trust Vicky Metcalfe Award for her body of work and many others. Her books have been New York Times and Publishers Weekly bestsellers and Rosie O'Donnell and Oprah picks. She is translated into over 25 languages and her books are taught in children's literature curricula in North America and internationally. She lives in British Columbia.

Marylin Hafner has illustrated numerous children's books. She lives in Cambridge, Massachusetts.
Praise For The Pepins and Their Problems…
"Following her National Book Award-winning dark comedy The Canning Season, Horvath reprises the unalloyed giddiness of Everything on a Waffle--and ups the ante with some outrageous, Pirandello-like flourishes . . . the sly running jokes about place names and brazenly funny developments keep the conceit and the comedy energetic all the way to the finish line." —Publishers Weekly, Starred Review
"Distinctive and decidedly hilarious . . . Young readers won't be able to turn the pages fast enough to discover the Pepins' newest predicament. . . . A delight." —Kirkus Reviews, Starred Review
"Horvath spins deliciously silly stories about a family rivaling Hale's Peterkins for foolishness and Cresswell's Bagthorpes for effervescent wit. Each preposterous event holds fresh surprise. . . . Hafner's line drawings visualize the shenanigans with comic amiability. Here's one reader beaming thoughts to both author and illustrator: Thanks for the laughs! More, please!" —The Horn Book Magazine, Starred Review
"The sly humor is just right for upper-elementary-school kids, and this book should be a fun read-aloud for younger listeners." —School Library Journal
"Horvath spins a delightful yarn . . . the wordplay is a great argument for reading this aloud; adults will enjoy the story almost as much as children." —Booklist