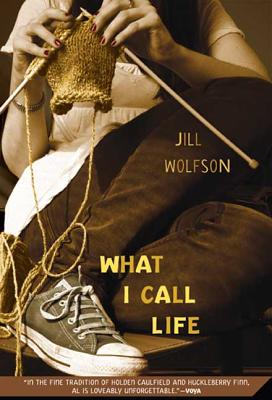 What I Call Life (Paperback)
Square Fish, 9780312377526, 276pp.
Publication Date: April 1, 2008
Description
Saddled with an unfortunately long name by her eccentric mom, Carolina Agnes London Indiana Florence Ohio Renee Naomi Ida Alabama Lavender just goes by Cal to keep things simple. Cal Lavender is perfectly happy living her anonymous life, even if she does have to play mother to her own mother a whole lot more than an eleven-year-old should. But when Cal's mom has one of her "unfortunate episodes" in the middle of the public library, she is whisked off by the authorities and Cal is escorted to a seat in the back of a police car. On "just a short, temporary detour from what I call life," Cal finds herself in a group home with four other girls, watched over by a strange old woman everyone refers to as the Knitting Lady. At first Cal can think of nothing but how to get out of this nuthouse. She knows she doesn't belong there. But it turns out that all the girls, and even the Knitting Lady, may have a lot more in common than they could have imagined.
About the Author
Jill Wolfson is the author of the highly acclaimed novels What I Call Life and Home, and Other Big, Fat Lies. The editor of a parenting magazine, her writing has appeared in publications around the country. Her book Cold Hands, Warm Heart was published in 2009 by Henry Holt. She lives in Santa Cruz, California and volunteers in a writing program for incarcerated teenagers.
Praise For What I Call Life…
"Wolfson paints her characters with delightful authenticity. Her debut novel is a treasure of quiet good humor and skillful storytelling that conveys subtle messages about kindness, compassion, and the gift of family regardless of its configuration."—Booklist, Starred Review
 
"Wolfson's first novel is a grand-slam home run. Her wonderfully kooky characters, her fast-paced, witty dialogue, and her realistic depiction of emotional growth in severely damaged children keep the reader laughing and crying on every page. In the fine tradition of Holden Caulfield and Huckleberry Finn, Cal is loveably unforgettable. Somewhere, perhaps inside of every reader, is a child who will be reaffirmed by this exceptional piece of middle school fiction."—VOYA
 
"Thankfully, books like Wolfson's—issue-oriented and therapeutic—give all kids an enjoyable way to begin to understand the complications of living. Her book specifically is a small miracle for how gently it exposes the wounds of being a foster kid."—Santa Cruz Sentinel
Advertisement