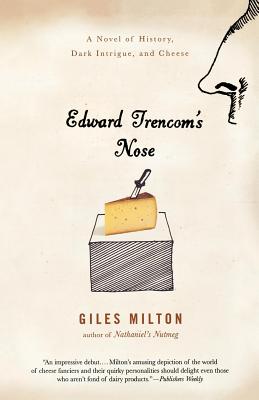 Edward Trencom's Nose (Paperback)
A Novel of History, Dark Intrigue, and Cheese
St. Martin's Griffin, 9780312377595, 320pp.
Publication Date: June 24, 2008
Other Editions of This Title:
Paperback, Large Print (2/1/2008)
Hardcover, Large Print (10/1/2007)
* Individual store prices may vary.
Description
Situated on London's Foster Lane, there is a quintessentially Georgian, redbrick house with a green door bearing the sign trencoms, 1662. It's the home of the Trencom family's cheese store, a generational establishment begun by Humphrey Trencom that now, 303 years later, is run by Edward Trencom. Quaint though it may seem, it bears witness to a strange occurrence of "accidents" that seem to befall every generation of the curd-loving family.…
Edward Trencom has bumbled through life, relying on his trusty nose to turn the family cheese shop into the most celebrated fromagerie in England. This was no ordinary nose, but one long, aquiline, and furnishing the trademark circular bump over the bridge---the very same nose bestowed on all the Trencom men. It was extraordinary, able to discern the composition, maturity, and quality of cheese---and the Trencom noses had sniffed, whiffed, and judged the very best cheeses of the world.
But on an ordinary day, Edward's world is turned upside down when he stumbles across a crate of family papers. To his horror, he discovers that nine previous generations of his family have come to sticky ends because of their noses. When he investigates---despite his grandfather's caveat never to look into the origin of his nose---Edward finds himself caught up in a Byzantine riddle to which there is no obvious answer. And like his ill-fated ancestors, he is hunted down by rival forces whose identity and purpose remain a total mystery.
Trapped between the mad, the bad, and a cheese to die for, Edward Trencom's nose must make a choice---and for the last nine generations it has made the catastrophically wrong decision.
Giles Milton's deliciously comic debut novel is a mouthwatering blend of Tom Sharpe and P. G. Wodehouse. From the noble Roquefort to the piquant Èpoisses, every page is permeated by the pungent odor of cheese.
Praise for Giles Milton:
"He has a rare ability---a talent for sifting fine pearls from faraway sands and for transmuting the merely arcane into little literary gems."
---Simon Winchester, The Boston Globe
"Milton spins a fascinating tale. . . . Exuberantly eccentric characters stride the pages."
---Time magazine on Nathaniel's Nutmeg
"In an exceptionally pungent, amusing, and accessible historical account, Giles Milton brings readers right into the midst of these colonists and their daunting American adventure."
--- Janet Maslin, The New York Times, on Big Chief Elizabeth
About the Author
Giles Milton is a writer and historian. He is the internationally bestselling author of eleven works of narrative history, including Churchill's Ministry of Ungentlemanly Warfare and Nathaniel's Nutmeg. His books - which include White Gold, Paradise Lost and Russian Roulette - have been translated into twenty languages worldwide. Milton lives in London.
Praise For Edward Trencom's Nose: A Novel of History, Dark Intrigue, and Cheese…
"Milton's amusing depiction of the world of cheese fanciers and their quirky personalities should delight even those who aren't fond of dairy products." - Publishers Weekly