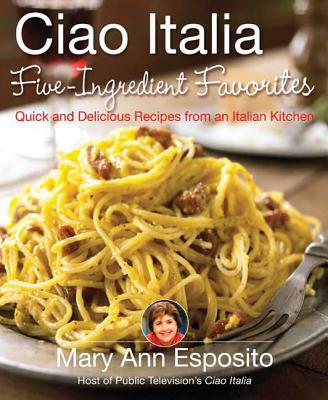 Ciao Italia Five-Ingredient Favorites
Quick and Delicious Recipes from an Italian Kitchen
Hardcover

* Individual store prices may vary.
Description
In Mary Ann Esposito's new book, "Ciao Italia Five-Ingredient Favorites," she shows home cooks how to turn just five ingredients into an easy, delicious and economical Italian dish for the family dinner table. Mary Ann Esposito knows that the genius behind great Italian cooking is the simple philosophy of using just a few quality ingredients to create something delicious. In "Ciao Italia Five-Ingredient Favorites," she shows home cooks how to make that philosophy work for them so that they can save time and money without sacrificing flavor. With seventy five authentic Italian recipes--from antipasti to pastas, main courses and desserts -Esposito draws on the Italian culinary tradition of simplicity in the kitchen to create such effortless and tasty dishes as:
- Prosciutto di Parma, Fontina and Fig Wraps
- Spicy Soppressata Tartlets
- Cheesy Stuffed Meatballs
- Pistachio Dusted Pork Chops
- Oven-Poached Halibut with Shallots and Fennel
- Escarole Salad with Mustard Dressing
- Chocolate, Hazelnut, and Banana Tartlets
- Buttermilk Panna Cotta Infused with Vanilla
With "Ciao Italia Five-Ingredient Favorites," Mary Ann Esposito serves up a surefire way to please family and friends with easy recipes that are quick and delicious.
Praise For Ciao Italia Five-Ingredient Favorites: Quick and Delicious Recipes from an Italian Kitchen…
Praise for two other Mary Ann Esposito classics that show home cooks how to prepare authentic and delicious Italian meals with ease!
Ciao Italia Pronto: 30 Minute Recipes from an Italian Kitchen:
"Ciao Italia Pronto gives us everything we have come to expect from Mary Ann – real Italian food, helpful tips and suggestions and an engaging style.  But this book lets us have it all in less than thirty minutes!  Pronto?  Bravissima!"-- Nancy Verde Barr, author of We Called It Macaroni and Make it Italian
"Mary Ann Esposito Gets right to the heart of real Italian cooking in Ciao Italia Pronto!: no-fuss recipes that are quickly made but bursting with flavor.  This is Italian home cooking at its best." -- Nick Magleri, author of Perfect Cakes and How to Bake
Ciao Italia Slow and Easy: Casseroles, Braises, Lasagne and Stews from an Italian Kitchen:
"Mary Ann Esposito's new tome of slow cooked classics hits America right in the appetite with exactly what we are longing for and what we are missing.  These spectacular, yet simple, recipes are easy to shop for, simple to prepare and give me a window of readiness that means everyone can always eat together, sharing a comforting kind of Italian cooking that says "grandma" in every language known to mankind's love of the absolutely delicious... Brava, Mary Ann!!!!!!!" -- Mario Batali, author of
            "For years I've wondered why somebody hasn't produced a much-needed cookbook exploring Italy's many regional casseroles and stews. Now, finally, Mary Ann Esposito has more than filled the bill with this amazing collection of sumptuous but easy recipes that--at least for me--define the very heart of authentic Italian cooking. From a layered cornmeal pie with sausage and wild mushrooms, to a Sardinian mixed seafood cassola, to an utterly fascinating array of unusual pasta and fruit casseroles, the book is an exciting tour of no-nonsense Italian kitchens bursting with enticing aromas, succulent flavors, and, to be sure, lots of soul-warming cheer."  -- James Villas, author of Crazy for Casseroles
St. Martin's Press, 9780312377694, 150pp.
Publication Date: September 1, 2009
About the Author
MARY ANN ESPOSITO is the host of the long-running PBS series "Ciao Italia." She is the author of nine successful cookbooks, including Ciao Italia Slow and Easy and Ciao Italia Pronto!. She lives in Durham, New Hampshire.
or
Not Currently Available for Direct Purchase