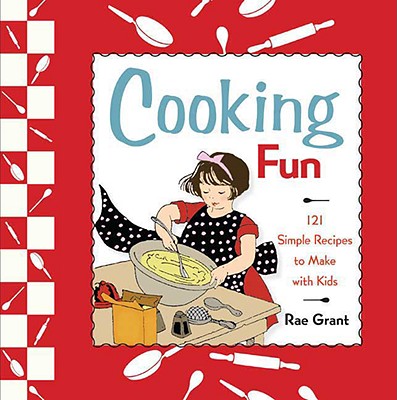 Cooking Fun
121 Simple Recipes to Make with Kids
Spiral

* Individual store prices may vary.
Description
Classic American recipes from grandma's kitchen are the inspiration for this children's cookbook offering 121 recipes for simple and wholesome food. Inspired by vintage cookbooks from the 20s and 30s it is designed to appeal to the eye as well as the stomach. Included are beverages, sandwiches, soups, simple suppers, quick breads, cakes and cookies, and even some child-friendly veggies. The recipes are clearly presented with easy-to-follow steps teaching children how to make these nutritious recipes from scratch.
PERFECT FIRST COOKBOOK---easy to follow recipes combined with essential cooking basics like how to measure, read recipes, set a table, plus kitchen safety tips.
CHILD-TESTED RECIPES---all the recipes are child-tested and use fresh ingredients. Some of the recipes require adult help, especially for younger children, but many can be completed independently.
DELICIOUS COMFORT FOOD---classic American recipes that are both fun for kids to make and health-conscious, as they are made from scratch using wholesome ingredients.
YOUR FAMILY FAVORITES---includes a scrapbook section at the back for collecting family recipes and making notes.
"Cooking Fun" is an all-around great first cookbook and keepsake for any child.
What kids are saying:
"The strawberry shortcake was so good."---Max
"I loved making whipped cream with the rotary beater."---Charles
"Your tomato soup is my favorite. Can I have the recipe?"---Claire
"Yummy turkey meatballs."---Gwen.
Praise For Cooking Fun: 121 Simple Recipes to Make with Kids…
"Cooking Fun will have mothers fondly recalling their early culinary adventures and will introduce a younger generation to the delights to be had in the kitchen. The title says it all---it's as fun as it is easy, and each recipe will have you turning the page to try the next."---Eileen Goudge, author of Otherwise Engaged and Something Warm from the Oven

"To be able to cook empowers one's creativity and resourcefulness. Cooking Fun is a lively and charming encouragement for kid-friendly cooking and feasting. Bon appetit!" ---Edward Espe Brown, author of The Tassajara Bread Book and coauthor of The Greens Cookbook
"NYC mom Rae Grant embraces a retro sensibility in Cooking Fun: 121 Simple Recipes to Make with Kids, with letterpress and collage illustrations inspired by cookbooks of the 1920s and '30s. Throwback recipes include, in addition to those already mentioned, Ohio Sloppy Joes and Sunny Day Cheese Biscuits." --Time Out New York
From The Milwaukee Wisconsin Journal Sentinel
"This may be the best cookbook for kids I've seen—and we see a lot of them around here. Grant has conceived a beautiful, easy-to-read book, with recipes written in crystal-clear prose and precisely logical steps. A monkey could make you dinner from Cooking Fun. Which means your little monkeys should have no trouble at all…. Thanks to Grant, a new generation of cooks can explore that exciting, unchartered territory called 'the kitchen,' and discover the tasty magic of food cooked by their own hand, with simple dishes such as Grandma's Cinnamon Toast, Chicken and Rice Soup, or Pigs in the Poke (hotdogs with popover batter). Cooking Fun  is a companion book to Grant's Crafting Fun: 101 Things to Make and Do with Kids, which was released at the same time and has the same brilliant simplicity of organization."
A washingtonpost.com Best Gift Cookbook Pick of 2008:
"How nice to see new versions of old and simple kid-pleasing recipes. Most have three or five ingredients, with nary a cutesy name. The book's retro look complements the comfort level of the recipe directions."
From San Jose Mercury News
"The recipes are not only easy, but also simple. Few have more than five ingredients, and none requires processed food, unless you count hot dogs or American cheese. It's all comfort food, if 'comfort' means making everyday life a little more agreeable…. Bottom line: Any grown up cook would want his kid to love this book."
From Publisher's Weekly Children's Bookshelf
"Grant is a book designer, collage illustrator, and author, with a background in letterpress printing and bookmaking. To that end, this book—which pubs simultaneously with Grant's Crafting Fun—is inspired by vintage cookbooks from the 1920s and 30s with classic American recipes and illustrations."
From lime.com
"Kids love to cook, and this cookbook offers nutritious recipes that are easy enough for them to do much of the work. Learning how to cook will help them develop a lifelong appreciation for food, and will even encourage them to eat healthier, especially if it's a dish that they themselves prepared. The book includes basic information, like how to set a table and read a recipe, and tips on kitchen safety. Vintage-style illustrations recall books of the 20s and 30s, and give this cookbook an irresistible charm."
Griffin, 9780312377793, 144pp.
Publication Date: September 30, 2008
About the Author
RAE GRANT is a book designer, collage illustrator, and author. Her background in fine letterpress printing and bookmaking established her reputation for designing high-quality illustrated books. Rae lives in Manhattan with her daughter and husband.
or
Not Currently Available for Direct Purchase