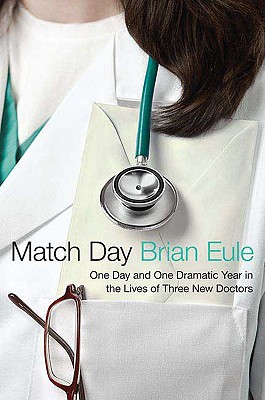 Match Day: One Day and One Dramatic Year in the Lives of Three New Doctors (Hardcover)
One Day and One Dramatic Year in the Lives of Three New Doctors
St. Martin's Press, 9780312377847, 272pp.
Publication Date: March 3, 2009
* Individual store prices may vary.
or
Not Currently Available for Direct Purchase
Description
Three new doctors—all women—struggle to balance professional ambitions and personal relationships, triumphs and crises, uncertainties and decisions, through one pressure-packed day and the first year of their careers in medicine
Each year, on the third Thursday in March, more than 15,000 graduating medical students exult, despair, and endure Match Day: the decision of a controversial computer algorithm, which matches students with hospital residencies in every field of medicine. The match determines where each graduate will be assigned the crucial first job as an intern, and shapes the rest of his—or, in increasing number, her—life.
In
Match Day
, Brian Eule follows three women from the anxious months before the match through the completion of their first year of internship. Each woman makes mistakes, saves lives, and witnesses death; each must keep or jettison the man in her life; each comes to learn what it means to heal, to comfort, to lose, and to grieve, while maintaining a professional demeanor.
Just as
One L
became the essential book about the education of young attorneys, so
Match Day
will be for every medical student, doctor, and reader interested in medicine: a guide to what to expect, and a dramatic recollection of a pressured, perilous, challenging, and rewarding time of life.
About the Author
BRIAN EULE is a graduate of Stanford University and received an MFA in writing from Columbia University. He has worked as a journalist for two Massachusetts newspapers, as well as contributing to "Stanford Magazine." He lives with his wife in Northern California.
Praise For Match Day: One Day and One Dramatic Year in the Lives of Three New Doctors…
Advance Praise for MATCH DAY:
"Although the narratives revolve around Match Day, the story is really about how the system of training and practice affects the personal lives of the youngest doctors. The specific demands of medicine lead to a litany of issues each woman struggles with throughout the year. Will my training swallow me up? How do I cultivate meaningful relationships during my few hours off each week? Is it possible to be a resident and have a family? Like the best of Hollywood awards ceremonies, this book's hook may be what is in those little envelopes; but it's the show that is riveting." –NewYorkTimes.com
"A marvelous coming of age narrative about three young doctors and the choices they make. Match Day isn't just about stethoscopes and scalpels; it's packed full of the hidden stuff—romances ruined; romances saved; late-night panics and an unshakeable desire to lead America's next generation of healers." –George Anders, New York Times bestselling author of Perfect Enough

"The phrase "match day" has long been part of medical jargon in the United States. With this book, Brian Eule makes it part of our non-fiction literature. In humane and incisive portraits of three medical students and their loved ones, he conveys the struggle to balance professional aspiration and romantic attachment."—Samuel G. Freedman, author of Who She Was and Upon This Rock

"Skillfully and tenderly, Eule interweaves the lives of three medical couples as they contemplate critical life decisions about career, work, family, and love." –Steven A. Schroeder, MD, Distinguished Professor of Health and Health Care, University of California, San Francisco

"Highly informative...compelling...Eule is a gifted storyteller with a knack for anecdotes. He brings us deep into the lives of these young people and celebrates the real-world rigor of residence training...Required reading for future doctors." --Kirkus Reviews


Advertisement