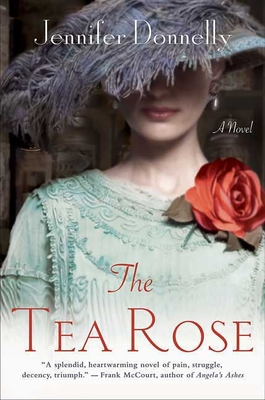 The Tea Rose
A Novel (The Tea Rose Series #1)
Paperback

* Individual store prices may vary.
Other Editions of This Title:
Digital Audiobook (3/6/2014)
Description
The Tea Rose is a towering old-fashioned story, imbued with a modern sensibility, of a family's destruction, of murder and revenge, of love lost and won again, and of one determined woman's quest to survive and triumph.

East London, 1888-a city apart. A place of shadow and light where thieves, whores, and dreamers mingle, where children play in the cobbled streets by day and a killer stalks at night, where bright hopes meet the darkest truths.

Here, by the whispering waters of the Thames, a bright and defiant young woman dares to dream of a life beyond tumbledown wharves, gaslit alleys, and the grim and crumbling dwellings of the poor.

Fiona Finnegan, a worker in a tea factory, hopes to own a shop one day, together with her lifelong love, Joe Bristow, a costermonger's son. With nothing but their faith in each other to spur them on, Fiona and Joe struggle, save, and sacrifice to achieve their dreams.

But Fiona's dreams are shattered when the actions of a dark and brutal man take from her nearly everything-and everyone-she holds dear. Fearing her own death at the dark man's hands, she is forced to flee London for New York. There, her indomitable spirit-and the ghosts of her past-propel her rise from a modest west side shopfront to the top of Manhattan's tea trade.

Authentic and moving, Jennifer Donnelly's The Tea Rose is an unforgettable novel.
Praise For The Tea Rose: A Novel (The Tea Rose Series #1)…
"It's so much fun ...this is London in the 1880s, the London of Charles Dickens and Edward Rutherfurd, a teeming, messy place full of business, dirt and poverty. Once in New York, we trip from the tenements of the Lower East Side to elegant dining at Delmonico's, with hardly a paragraph to catch our breath...the atmosphere of both starring cities is created in satisfying detail. One can walk the streets and listen to the people chat in the company of Jennifer Donnelly, who has done her historical homework...she delivers." —Washington Post

"Time seems to stand still when The Tea Rose comes to life." —The Anniston Star

"When you start reading Jennifer Donnelly's The Tea Rose give yourself plenty of time because this is a most seductive novel. You will travel from the rough, often savage, back streets of London to the glossy sophistication of New York's Fifth Avenue. You'll be charmed by the novel's heroine, Fiona Finnegan-her intelligence, her courage, her great heart. Despite her suffering-a lost love, a tragic family-there are moments you will want to cheer. It's the kind of novel where the writing is so fluid you feel the author simply loves telling her story. This is a splendid heartwarming novel of pain, struggle, decency, triumph-and just what we need in these times." —Frank McCourt

"I loved this vividly atmospheric and wonderfully rambunctious yarn-brilliantly told, great fun to read." —Simon Winchester, author of The Professor and the Madman

"Bold, brisk, and beguiling. The Tea Rose is splendid brew of a book." —Samuel H. G. Twining, LVO, OBE, director of Twinings Tea

"The Tea Rose is the kind of book that calls for a rainy day, a cozy chair, and a good, steaming cup of tea. It's strong and satisfying, with a taste that lingers in the memory." —Paula Cohen, author of Gramercy Park

"In the tradition of Barbara Taylor Bradford...steeped in romance and authentic period detail, this exquisite melodrama will appeal to fans of epic historical fiction." —Booklist

"The novel's lively plotting, big cast of warmly drawn characters and long-deferred romantic denouement make this a ripping yarn." —Publishers Weekly

"Readers will relish this rags-to-riches romance." —Library Journal

"A hard book to put down until the final page." —Chattanooga Free Press

"Donnelly's tale pulls the reader into its emotional depths and refuses to let go. Fiona Finnegan is a remarkable heroine." —Romantic Times Book Club, Top Pick
St. Martin's Griffin, 9780312378028, 592pp.
Publication Date: December 10, 2007
About the Author
Jennifer Donnelly writes books for children and adults, including the novel The Tea Rose. She lives in Brooklyn and upstate New York, with her husband and two greyhounds. She has a passion for tea and roses.